Michel Platini: Uefa chief has his critics but is used to success
Last updated on .From the section Football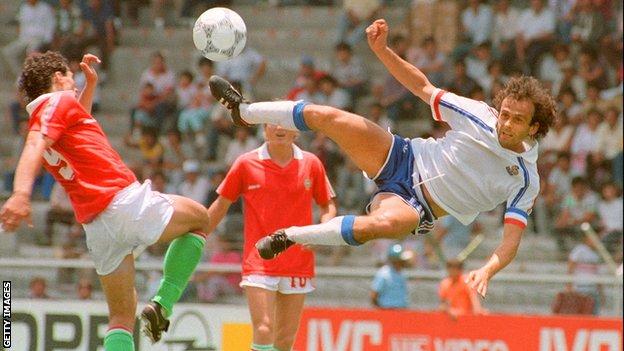 "I was born in football," Michel Platini once said.
"Football is a fantastic, intelligent game which teaches us how to live together, how to share when you are better than others. It is an extraordinary education for life."
As a player in France and, for five glorious years, with Juventus, they called him "le Roi" - the king. He was a dashing playmaker who orchestrated matches with a swagger allied to skill, flair and intelligence. Three times European Footballer of the Year, the zenith of his career came in the glorious French summer of 1984.
Platini scored nine goals in five matches to lead France to a majestic European Championship victory on home soil. He lifted the trophy as captain, having scored not one but two "perfect hat-tricks" (a goal each with right foot, left foot and head). Platini's place in the pantheon was secure.
A year later came an event that still haunts him, the European Cup final between Liverpool and Juventus at Heysel, where 39 people lost their lives. The match, for what it was worth, was settled by a Platini penalty kick.
Time has passed, and Platini has lost hair and gained weight since his heyday. "My hair is gone, I've got a big belly; it's time to be president," was how the man himself described his appearance on a recent visit to London.
The player who beguiled Europe with the ball appeared the last man who would want to play the politics of football administration and Platini has always said his move into football politics was down to "fate".
In 1992 he ended a broadly successful spell as coach of the French national team, during which the team went on a 19-game unbeaten run. An offer arrived to coach Real Madrid but coaching had lost its lustre for Platini.
It was at that point that President Francois Mitterrand asked him to organise the 1998 World Cup in France. "I met people from Fifa, Sepp Blatter asked me to help him become president and I became his adviser," Platini said.
As co-chairman of the France 98 committee, he led from the front. France lifting the trophy did him no harm.
Platini had grown up in Nancy, the son of an immigrant Italian labourer. His father, Aldo, was a professional footballer of limited ability, but at the age of 11 he took his son to see an all-star XI play the local club, near Metz. It was to prove a defining moment for the young boy.
He was struck when he saw the Hungarian striker Ladislao Kubala, who hooked a pass over his shoulder into the path of a team-mate while facing his own goal. The story goes that Platini gasped: "Papa! How did he see to do that?"
"Because he looked before," came the reply from his father. From that moment, Platini started taking mental pictures of matches in which he was playing.
In 1966 he joined AS Joeuf before moving to Metz, but had to take a break from the game while he did his military service. He went to the first of his three World Cups with France in 1978 but was blamed for France's poor showing and was even booed when he came home, before joining St Etienne.
Both Arsenal and Tottenham made him offers in 1981 but the move to Juventus in 1982 helped his career reach new heights.
The 57-year-old has mellowed without losing his fire. Since he took over as president of Uefa in 2007, after an apprenticeship in football politics under Fifa president Blatter, Platini has been increasingly cast as an enemy of the English game.
It is an accusation he has heard a thousand times, but one to which he has always responded with the words "not guilty". Platini insists he cares about the health of the game. Perhaps he cares a little too much, but he is as ambitious off the field as he was on it and his critics claim his next target is clouding his judgement.
He is widely expected to challenge for the Fifa presidency in 2015 if Blatter keeps his promise to make his fourth term his final one.
Platini is known to have an avid interest in Napoleon and as a leader he is just as bold, shaking up the old order and attempting to break up the hegemony of the rich clubs from the leading countries that dominate the Champions League, and to draw into that competition more teams from eastern Europe. That is a pledge he says is close to his heart.
Financial Fair Play (FFP) was Platini's brainchild. "We wanted to revolutionise European football when we first introduced this idea," he said. "We are never going back on this."
He also controversially supported Qatar's 2022 World Cup bid, subsequently advocated a winter World Cup and announced plans for a continent-wide European Championship in 2020 - all developments that have attracted widespread scorn. Like the man himself, these proposals are bold and have polarised opinion.
His commitment to his work is unswerving. Within hours of his election as Uefa president, he was persuading his wife to move full-time from Paris to Geneva, where the governing body is based. The couple have two children and often spend time in their holiday villa, complete with tennis court, in the French port of Cassis.
Platini is known as a bon viveur and heavy smoker, but that was a vice he had at the height of his playing career, when he would regularly join Juventus team-mate Zbigniew Boniek for a quick cigarette behind the stand at training, away from the gaze of their strict manager Giovanni Trapattoni. "A Frenchman will drive 200km for a good vineyard; an Italian will drive 200km for a good game of football," he was quoted as saying during his time in Turin.
Platini is not yet the most powerful man in football but there is a growing sense that he is the Fifa president-elect. His critics are numerous, but in the corridors of power he has plenty of friends.
A man who was once a great attacking player is getting used to being forced onto the defensive. But few would bet against him reaching the very top.