Dundee derby: Jim McInally tips United for victory
By Paul Barnes
BBC Scotland
Last updated on .From the section Football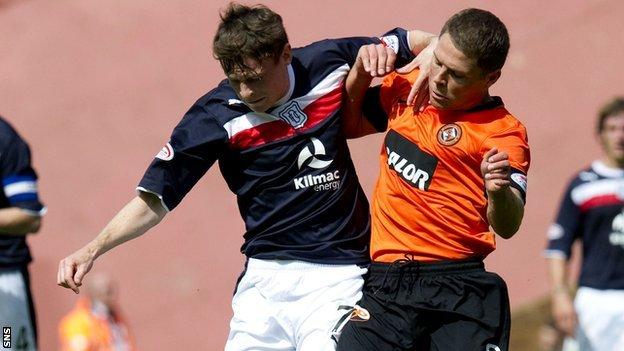 A city united in their love for football, but divided by a mere stone's throw.
Dundee and Dundee United will take to the pitch on Sunday to contest their second competitive derby of the season. Back in September, at a packed Tannadice, their own backyard.
This time, fans and players will stomp across the street, literally, to Dens Park, where bottom-of-the-table Dundee will look to avenge their early-season loss.
To the relief of the inhabitants of Tayside, this derby is perhaps less infamous than others can be, but don't let the often good-natured rivalry lessen the importance of this fixture.
Jim McInally is a household name in the City of Discovery, the Peterhead manager having represented both clubs in his playing days.
And he knows as well as anyone how much it means to both sets of supporters.
"It's a small city with a lot of rivalry," he told BBC Scotland.
"There can be a lot of hatred on the day and as a player you want your supporters to be the ones who have the bragging rights.
"But the rivalry isn't as strong as it is in other cities. Lots of fans from either side will meet up for a pint before and after the game, and a lot of families in the city are split."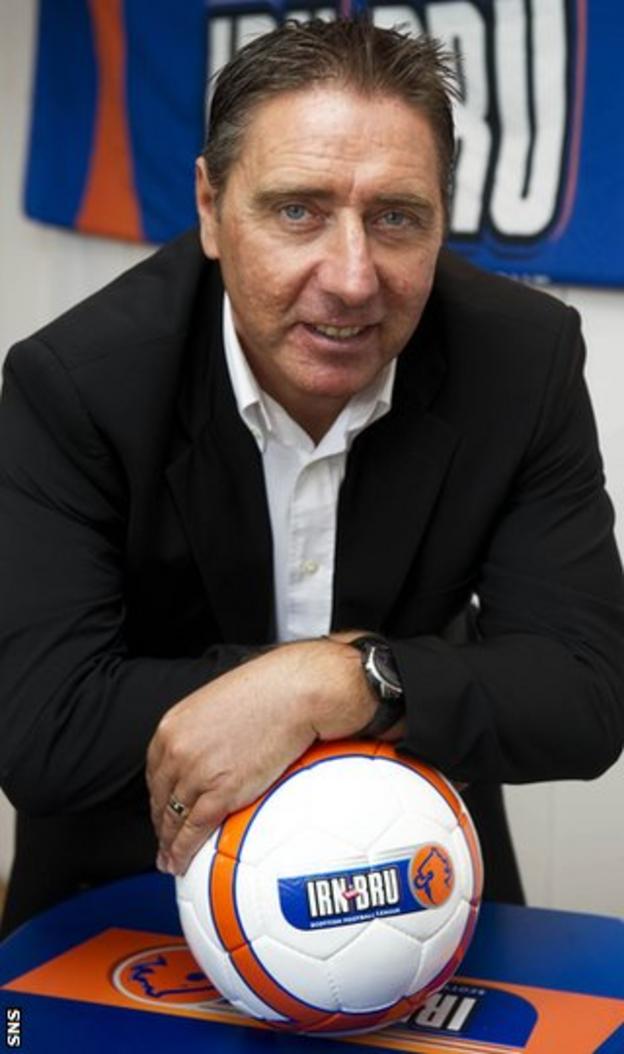 This season is the first time since 2004-05 that both Dundee clubs are in the Scottish Premier League, and until three weeks before the start of the campaign even that seemed implausible.
Dundee finished second in Division One, and were only promoted as a result of Rangers being ejected from the SPL following financial problems.
With only a few weeks to prepare for life in Scotland's top flight, Dundee have found it tough going, something that hasn't surprised McInally.
"I knew it would be a struggle for them initially," he said. "It was hard for them to sign players so late on because most of them had already committed to other clubs.
"But they've improved a lot just from their experience of being in the SPL. They've also got a lot of young boys developing very well like Ryan Conroy and Nicky Riley. It's no surprise to me that they've now started to pick up a bit."
As for United, it's been a season of frustration and inconsistency.
They finished fourth in the previous two seasons and battled to third the year before that.
Currently, Houston's men lie seventh in what's been an extremely competitive start to the SPL season.
"United's problems lie at the back. From middle to front they're second only to Celtic, with some great attacking players," said McInally.
"They've gone behind in a lot of games and managed to get back into it because they always score goals.
"But they need to tighten up at the back. I think it's too easy to blame individual defenders. Instead they're maybe not defending well as a team.
"They're always dangerous and it's hard to back against them with some of the forward players they've got."
As well as the noise and atmosphere that will energise a sold-out Dens Park, it will also be a time for reflection.
United's players will wear a black armband as a mark of respect and McInally says Smith's warmth bridged the footballing rivalry.
"The respect that he's got in Dundee is unbelievable," McInally said.
"I've never come across a nicer man in football. I knew him and his wife very well and he was a wonderful guy.
"He'll be a great loss for the city."
Dundee will look to make the most of home advantage for the match, but McInally isn't convinced it will help a great deal.
"As a United player I always preferred playing at Dens, but when I joined Dundee I always preferred playing at Tannadice," added McInally.
"At both clubs I enjoyed success in Dundee derbies playing away from home.
"Three sides of the ground will be full of Dundee fans on Sunday so I'm sure that will give them extra bit of backing they need to get a result.
"But I think United will shade it. It will be closer than the first match at Tannadice, but with [Johnny] Russell and [Jon] Daly I think they'll have that extra bit of quality to get the win."