Chelsea win more important than popularity - Rafael Benitez
Last updated on .From the section Football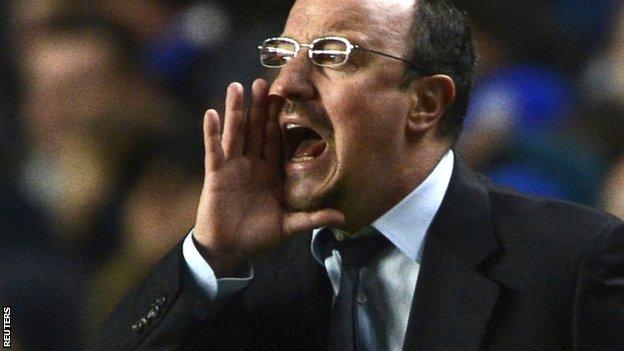 Chelsea interim manager Rafael Benitez says winning at Sunderland on Saturday is more important for the team than his own hopes of winning over supporters.
He has presided over three league games but is yet to record a win.
"Not for me, for the team, for the club, for everyone here, we want to win and we want to win together," he said.
The Blues are 10 points behind leaders Manchester United and because of their participation in the Club World Cup in Japan do not play another Premier League game until 23 December.
They have not won in the top flight since beating Tottenham on 20 October.
But Benitez insists Chelsea can still challenge for the Premier League title.
"At Valencia we were eight points behind in January," he said of the Spanish club he managed from 2001 to 2004.
"If we have to do the same here, we'll do it.
"I'm not worried about the distance but it's important we win so we are close."
Chelsea gave Benitez his first victory in charge with a crushing 6-1 Champions League win over Nordsjaelland in midweek, but could only finish third in their group as defending champions and will compete in the last 32 of the Europa League when European fixtures resume next year.
"It's important to show the same level that we showed the other day. I think we have enough quality and it's a question of doing things for a long time, more than just one game.
"Carry on with more games in a row at the same level and we will win more games."
Following Saturday's match Benitez and his squad travel to Japan for the Club World Cup where they will play two matches, a semi-final in midweek, and either a final or a third-place play-off on 16 December.
"Flying to the other side of the world isn't beneficial, but can we change the situation? No," Benitez said.
"You take the positives out of it, which is I'll spend the time with the players. Maybe it'll be negative and they'll be boring," he joked.
"No, we will work with it. It's not ideal. You'd like to train for a week and train with intensity, but this is what we have."
Club captain John Terry will miss the tournament because of his knee injury but Benitez can welcome back another stalwart, Frank Lampard, who has not played since suffering a calf problem in the Champions League defeat at Shakhtar Donetsk on 23 October.
Benitez revealed the 34-year-old would not start at the Stadium of Light on Saturday, adding: "It's been too long out for him. He needs to come back little by little.
"Lampard can find players between the lines, get into the box, score goals. So he's a different kind of midfielder to those we have at the moment.
"The ones we have can do a bit of everything, working, but he adds something. He cannot be box to box like 10 years ago, but he'll be important in possession to understand the game."