Angel Rangel: Swansea weren't good enough in the first half
Last updated on .From the section Football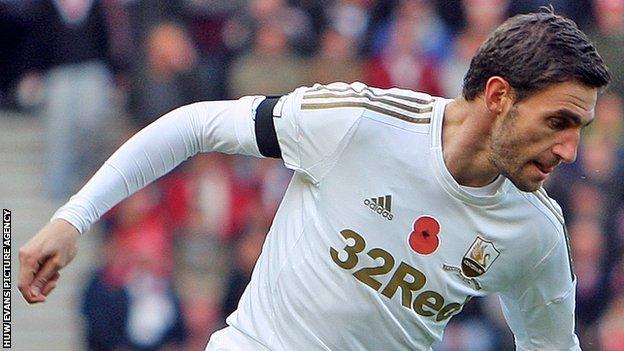 Angel Rangel says Swansea deserved to lose against Norwich because of their poor first-half display.
The Swans trailed 3-0 at half time, but fought back to 3-2 before a Robert Snodgrass free-kick finally put the game beyond them.
"The first half killed us, we weren't good enough," said Spanish defender Rangel.
Norwich are now unbeaten in nine Premier League matches and moved to within three places of Swansea, who are eighth.
"Norwich are a difficult team to beat to be honest," added Rangel.
"Both teams were on a good run before the game so it was going to be an open game because both teams create so many chances and probably the first-half killed us.
"Obviously we know that is a lesson to learn from."
After clawing their way back into the game with two goals, the Swans thought they had equalised when Itay Shechter found the back of the net after Norwich goalkeeper Mark Bunn spilled the ball under pressure from Michu.
However, it was ruled out for a foul on Bunn, a decision that left manager Michael Laudrup scratching his head.
"I think it was a little harsh decision, but again that's a part of it," said the former Danish international.
"I don't want to go in to details about one thing or another thing, we could talk about the last minutes during the game when we could have done a little more.
"It's details, and I want to focus on the bigger picture."
The defeat ended a seven match unbeaten run in all competitions for Swansea, who face Championship Middlesbrough in the Capital One Cup quarter-final on Wednesday.
"I think there are positive things," added Laudrup
"One is obviously the reaction of the players in the second half.
"The second, and I hope it is a positive thing, is that everybody realises that at this level you cannot 20 or 30 minutes, you cannot play at 90 per cent or 85, you have to be at 100 per cent.
"I have to say there was a fantastic reaction from the squad in the second half, scoring two goals in 15 minutes, having a third one disallowed. But obviously when it went to 4-2 it knocked us out."