Celtic manager Neil Lennon wants to avoid Man Utd and Dortmund
Last updated on .From the section Football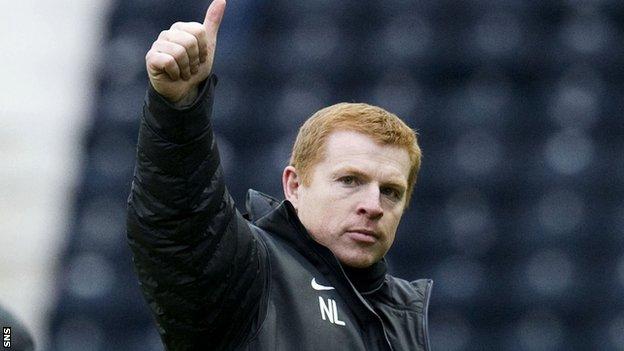 Celtic manager Neil Lennon hopes to avoid Manchester United and Borussia Dortmund in the last 16 of the Champions League.
The draw for the next stage of the competition takes place on 20 December.
"Every one of them's a quality side," Lennon told BBC Radio 5 live.
"I'd like to avoid maybe Manchester United and Dortmund. But, whoever we get, we'll take - we're really looking forward to it and excited about it."
As second-place finishers, Lennon's side could be drawn against any of the eight group stage winners bar Barcelona, who won Celtic's own group. With FC Schalke and Bayern Munich having also won groups, there is a strong chance Celtic will face German opposition even if it is not Dortmund.
Meanwhile, Lennon admitted the thought of managing in the English Premier League one day is something that appeals to him.
"I'm ambitious, obviously, and maybe one day, if I'm still good enough, a Premier League team might shine the eyes at me and it'll be something to consider," said Lennon.
"But I'm very happy here at the minute.
"I love what I do here and obviously I have great feeling and affinity with the support and the club.
"I'm a work in progress and, if something comes up later on in my career, who knows?
"You can't think too far ahead in football because you never know what's around the corner.
"You just never know where football takes you."