Fifa appoints an interim Sierra Leone body for a six-month period
By Mohamed Fajah Barrie
BBC Sport, Freetown
Last updated on .From the section Football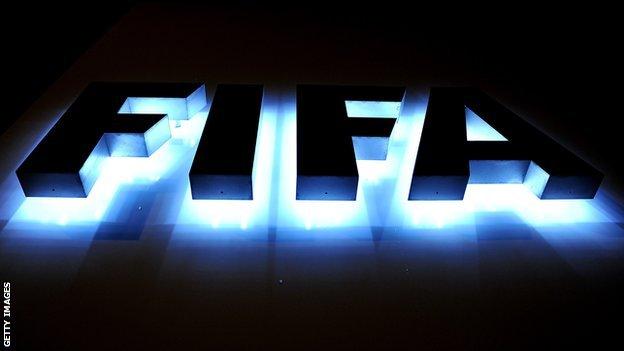 World's football governing body, Fifa has named an interim body to run the daily business of the Sierra Leone Football Association (SLFA) for a six-month period until new elections are held next year.
The interim body comprises of five people and is led by Alie Fornah, a former executive member of the SLFA.
A statement from the SLFA secretariat said: "Fifa has nominated a normalisation committee to run the daily business of the SLFA with immediate effect until June 30, 2013."
"The normalisation committee will assume the position of executive committee of the SLFA and shall organise a proper designation of the delegates, organise elective congress and carry out any other task that might be agreed upon with Fifa and Caf (Confederations of African Football).
Fifa had set a deadline of 15 January for the SLFA presidential election to be held but it has now been extended because there was delay in setting up the interim body as a result of the country's presidential election that took place three weeks ago.
All these came nine weeks after Fifa dissolved the SLFA executive committee after the resignation of its sick President Nahim Khadi and Vice-President Alie Kargbo.
The SLFA elections had been postponed several times following disagreements over who was eligible to stand in the presidential elections.
The crisis worsened three months ago when Sports Minister Paul Kamara accused the SLFA board of incompetence and dissolved it following the resignations of Khadi and Kargbo.
But he quickly reinstated the board on the orders of the country's President Ernest Bai Koroma after it was revealed Fifa was monitoring the situation and could potentially place a worldwide ban on Sierra Leone football.
Fifa then immediately sent an official Primo Corvaro to Freetown on a fact finding mission and subsequently took the decision to nominate a normalisation committee.
Fornah is aware of the tough challenges his body is facing but he believes that he'll succeed with the support of football stakeholders in the country.
"Our tasks are challenging, I'm very much aware of the problems within the football family in Sierra Leone as people are divided by ideas, interest groups and agendas," Fornah told BBC Sport.
He added: "But we should all come together to overcome the problems and put Sierra Leone first. I need the support of football stakeholders to succeed".
"They must allow the process to flow by allowing the SLFA statutes and ethics to be implemented. This is kind of support am asking for, not a blind one.
"The game has rules and we need to work within that framework. I hope I'll have the kind of support I'm asking for and together we can succeed."
Fornah who is head of a local based non governmental organisation and chairman of the board of directors of a government institution has also promised not to allow their work to be influenced by national politics in any way.