Dave Jones: Sheffield Wednesday boss 'will not step down'
Last updated on .From the section Football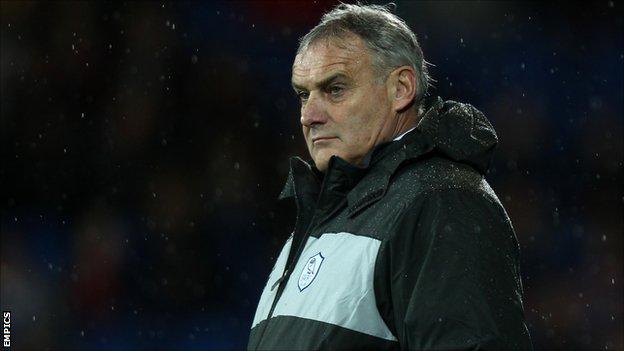 Sheffield Wednesday manager Dave Jones has said he will not step down from the post despite a run of seven consecutive Championship defeats.
Saturday's 3-2 home loss by fellow strugglers Bristol City leaves the Owls four points adrift of safety.
"Pass the problem onto someone else? I'm a bigger person than that," Jones told BBC Radio Sheffield.
"If a decision is made I can't have any choice in that, but I've never walked away from anything in my life."
He added: "Everybody always wants you to walk away in football. It's a sad indictment that somebody who comes to the game thinks you should lose your job because things aren't going well.
"Where's the sticking together? The fighting through it? Where's that attitude?"
The Owls' previous six defeats had come against sides in the promotion mix, but Saturday's loss was the first of two games against sides in the bottom four - with a derby against Barnsley to follow next weekend.
"We know we have to get results. I know how the football world works. We've had 12 managers in 15 years which is a lot and we're still where we are," the former Stockport, Southampton, Wolves and Cardiff manager added.
Jones was appointed in March on a three-and-a-half-year deal with the club third in League One - and he led them to promotion two months later.
"You've got to have time. Six months in we got promotion, and all of a sudden it's 'he's not got this' or 'not got that'," he said.
"Most of my career has been at the top end, but when you're down at the bottom, it doesn't mean your values and way of going about things is wrong.
"It's the only job in the world where people think they can do a better job."