Steve Clarke: 'If my players dive, I will speak to them'
Last updated on .From the section Football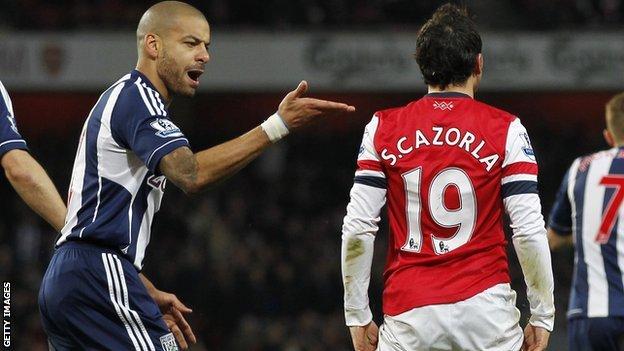 West Brom manager Steve Clarke says he will speak to his players if he thinks they are guilty of diving.
Clarke criticised referee Mike Jones for the decision and said: "I don't speak about players from other clubs.
"But if one of my players goes down with something similar to Cazorla, then we'll talk about it."
West Brom left-back Liam Ridgewell was accused of diving to win a spot-kick in a 4-2 win at Sunderland in November.
"I've spoken to Liam on a number of occasions this season," said Clarke. "We spoke about a number of different incidents."
The Arsenal penalty involved Baggies' right-back Steven Reid being adjudged to have caught Cazorla, although the defender insisted no contact had been made.
"No [I didn't touch him] and looking back at the replays even more so," Reid told BBC Radio 5 live.
"You'd like to think that even if there was a graze of a sock that's still not enough to go to ground. Even if it was that, which it wasn't, it's disappointing."
He added: "I might have had a little chat with Cazorla when I was waving a finger but I'm not sure I can repeat it as it wasn't too friendly.
"He almost looked a little embarrassed afterwards.
"I said to the referee there was no contact and he pretty much said that the intent was there, which I found a little bit strange."
There has been calls for the Football Association to take action over simulation, with Stoke manager Tony Pulis a strong advocate of retrospective punishment for those guilty of the offence.
Reid said: "There are always going to be one or two incidents.
"I don't believe that we should bring in any video analysis during the game. I think that would spoil the flow.
"But until something is done after a game we can carry on talking about it for as long as we like. Nothing will be done. We are always going to get incidents like that."