Issa Hayatou handed free run to extend Caf presidency
Last updated on .From the section Football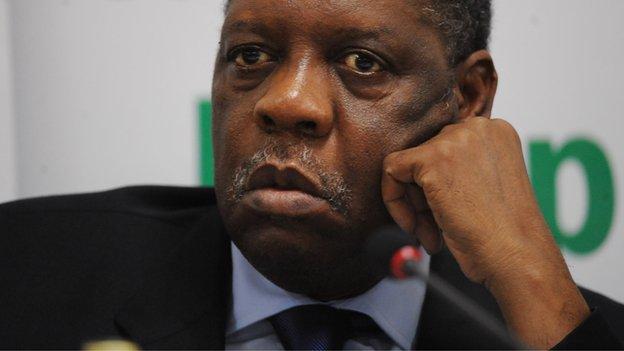 Incumbent Issa Hayatou will be unchallenged in the upcoming Confederation of African Football presidential elections.
At a meeting on 10 December, the Caf general secretariat informed the body's executive committee that Hayatou was the sole candidate for the post.
Fifa executive committee member Jacques Anouma had said he planned to put his name forward against Hayatou in the elections, which are scheduled to take place next March in Marrakech, Morocco.
That was despite the Ivorian being ruled ineligible to run for the position in September after Hayatou, 66, oversaw a change in the Caf statutes that allows only voting members of its executive committee to contest the presidency.
Anouma is a member of Caf's executive committee only because he serves as one of the continent's representatives on the Fifa executive. Although he attends Caf meetings, he does not have any voting rights.
And while the 60-year-old's name is believed to have been submitted before the 9 December nomination deadline, it does not appear in a table of candidates published on the Caf website.
An attempt by Liberia to overturn the election rules amendment was recently rejected by the Swiss-based Court of Arbitration for Sport because Caf's own appeal systems has not yet been exhausted.
Liberia FA president Hassan Musa Bility, who led the failed protest, has placed himself among the candidates up for election to the Caf executive committee - from the West B zone.
And South Africa's 2010 World Cup chief Danny Jordaan, who was also ruled ineligible to run for presidency, will contest the elections to be the South zone representative on the executive committee.
Both men are up against the current post holders.