Portsmouth: Football League reaffirm points deduction
Last updated on .From the section Football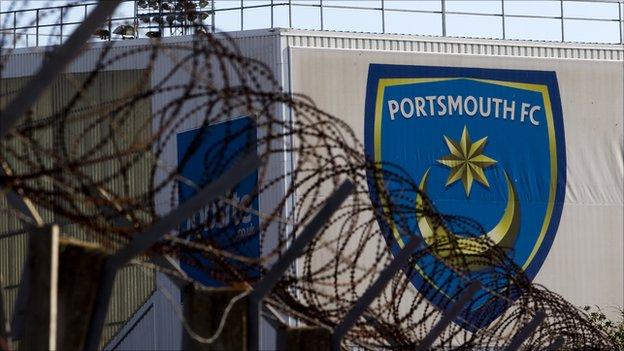 The Football League have confirmed they intend to dock Portsmouth 10 points when they come out of administration.
They are in the process of a takeover bid by the Pompey Supporters' Trust but that is conditional on administrators forcing the sale of Fratton Park.
"The Football League re-affirm its earlier decision that these conditions would include a deduction of 10 points," said the statement.
A 10-point deduction would leave the club in the League One relegation zone, but the PST say that decision was always expected.
"The 10-point deduction was anticipated," spokesman Colin Farmery told BBC Radio Solent.
"I don't think that is a great, significant blow to fans. I think most of us expected that was a likely outcome.
"The key thing is we are taking a long-term view of this decision and in the long term we think this is great news for Portsmouth Football Club."
Administrators of the club PKF will attempt to force the sale of Fratton Park at the High Court on Thursday.
If the judge agrees, an independent valuation will then be made leaving the PST free to complete the takeover of the club.
Fratton Park is currently controlled by Balram Chainrai, who is owed around £12m by the club and holds the stadium as security.
The Football League say they will approve the PST as owners if two areas can be resolved "they are the outcome of the current High Court proceedings relating to the ownership of Fratton Park and PST raising the remaining funding from supporters that is anticipated in its business plan."
Pompey's points deduction had been suspended but the league confirmed it will still be applied while also adding there will be further punishments against the club such as "restrictions on playing budgets and future borrowing for the next four seasons."
But the PST said in a statement they welcomed the news as a positive step.
"We are very pleased The Football League has shown confidence in our bid by endorsing our proposed membership. This is a highly significant moment for the club," said Ashley Brown, chairman of PST.
"We have always argued that Pompey needs a community-led solution and we are very pleased the league shares our confidence in our ability to turn the club around.
"Thanks to the backing of our fans and our individual investors we have a robust business plan, which the league has endorsed."