Manchester City fan faces lifetime ban over pitch encroachment
Last updated on .From the section Football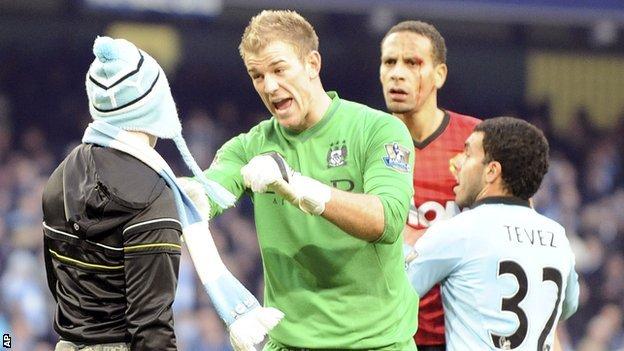 The Manchester City fan who ran on to the pitch to confront Rio Ferdinand during Sunday's Manchester derby faces a lifetime ban from the club.
Matthew Stott, 21, has had his season ticket revoked and will be banned for life if found guilty of pitch encroachment in court.
"His season card has been removed and he has been charged to appear at court," said a City spokesman.
"If he is found guilty he faces a lifetime ban."
Stott, described by his solicitor as "not a stereotypical drunken football fan", said in a statement he would be writing to United defender Ferdinand to apologise.
In a statement released by his solicitors, Stott, a landscape gardener from Knutsford, said: "I would like to apologise to all those affected by my actions yesterday, particularly Mr Ferdinand and the other players.
"I am extremely ashamed of my actions. I have let myself down, my family down, my fellow fans down and Manchester City Football Club.
"I intend to write personally to Mr Ferdinand to express my extreme regret and apologies and also apologise to Manchester United and their fans.
"I would like to thank Joe Hart for his actions when I came on the pitch.
"I have been a fan of Manchester City all my life and I have been a season-ticket holder for three years and I attend the games with my father. I have had the same seat in the section next to the away fans for those three years."
Centre-back Ferdinand suffered a cut above his left eye after being struck as United celebrated striker Robin van Persie's winning goal in a 3-2 victory against their rivals.
While Ferdinand played down the incident in a tweet, the Football Association has opened an investigation into the incident, which has been condemned by Manchester City.
City keeper Joe Hart had to stop Stott, who had run on to the pitch, from reaching Ferdinand as the defender recovered from the blow. Stott was escorted from the field by police officers.
In another tweet, referring to Hart stepping in to the fray, Ferdinand added: "Respect to Joe Hart for protecting that idiot who ran on!! Love the banter between fans but there is a point when it goes too far...calm it!"
Police have also charged eight other people in relation to the trouble. The charges include a racially aggravated public order offence, pitch encroachment, breach of football banning orders and other public offences, including being drunk and disorderly.
A police spokesman said they are continuing to work with City to identify the offender who threw a coin at Ferdinand.
Football Association chairman David Bernstein described the incidents as "deplorable".
"To see Rio Ferdinand with blood on his face is absolutely terrible," he told Sky Sports News.
"I think it's disturbing that we're seeing a recurrence of these types of incidents.
"We've had racial abuse issues, the odd pitch incursion, things being thrown at players - it's very unacceptable and has to be dealt with severely... in the strongest way we can."