Ebbsfleet United lack strength - Liam Daish
Last updated on .From the section Football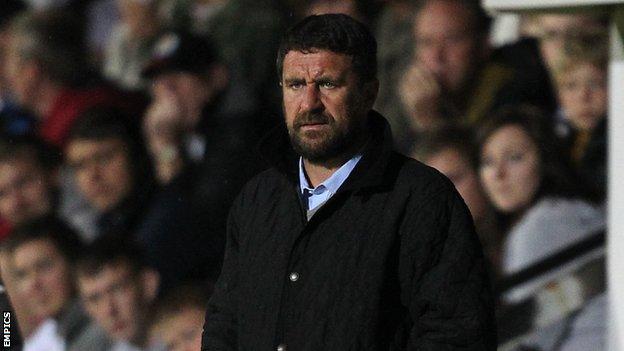 Ebbsfleet United manager Liam Daish believes his squad currently lack the physical presence needed to compete in Blue Square Bet Premier.
The Fleet lie in the relegation zone, two points from safety.
He told BBC Radio Kent: "We lack, as a whole group, strength and physicality for this league. I can see that.
"It's something you can't coach. You can't put that streak, that bit of strength or aggression, into players. You can buy it but you can't coach it."
He added: "It's either in your make-up or it isn't.
"I've got a lot of nice lads in the dressing room. I need some who know how to look after themselves."
Daish says he is likely to try and remedy the problem when the transfer window re-opens in January.
"I think that is the case," he said.
"January comes and we'll see what's out there. Players that are a bit more streetwise, know the game a bit better and can clear their lines a bit better.
"Some of our lads haven't grown into their bodies yet."
Meanwhile Daish says their 4-1 defeat by Mansfield at the weekend was partly caused by their lack of strength, along with the performance of the referee.
"There were a couple of factors which may have suited Mansfield rather than us - one being the referee," Daish said.
"He interpreted the game in a certain way and we had to make an early chance after a late challenge which was straight over the top of the ball.
"There was not even a free-kick. That went on from there.
"He didn't see it or he let it go but it suited Mansfield more than us.
"I had a bit of physicality taken out of my side with no Ram Marwa, no Patrick Ada no Paul Lorraine and no Nathan Elder.
"It was about digging in, clearing lines and winning more headers and tackles than them.
"They were physically a bit stronger than us and the ref allowed that to happen."