Phil Dwyer says Cardiff City ready for Premier League promotion
Last updated on .From the section Football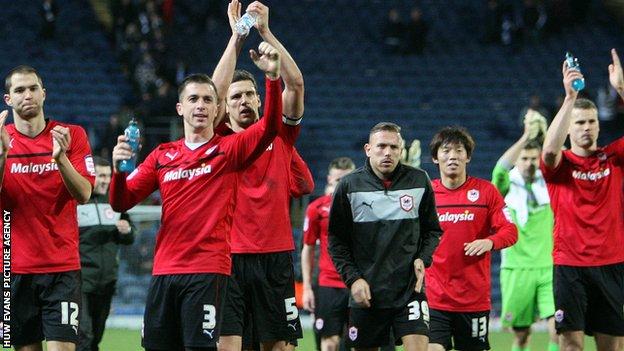 Cardiff City legend Phil Dwyer believes the club will not have a better chance to get promotion to the Premier League.
The Bluebirds are currently top of the Championship, six points ahead of third-placed Middlesbrough after a run of five wins and a draw.
"This is their greatest chance they have ever had," said Dwyer, who made 573 appearances for Cardiff between 1971 and 1985.
"If they don't get it this year I can't see it ever coming."
The Bluebirds, who have missed out on promotion for the last three seasons in succession, did go through a poor patch on the road in October and November.
But they have won their last three away games including a 4-1 success at Blackburn Rovers last Friday.
Talking to BBC Wales Sport Dwyer insists the secret of Cardiff's success so far has been the squad manager Malky Mackay has put together.
"The last three away games have been tremendous to get seven points from three games," said Dwyer.
"It's been a tremendous month for Cardiff. Three away games ago we couldn't beat anybody.
"It's the work rate. They seem to work for each other. There is no sort of celebrities apart from [Craig] Bellamy.
"He [Bellamy] is quality. He's so quick players are frightened of him.
"With everybody working, not just for him, but working for each other. They have got a great chance this season.
"Bellamy's just the one big name. Last season we had five or six big names but the squad wasn't big enough. If we had any injuries there wasn't the quality to bring in.
"This season that's the difference. If you look at Friday's game two of the subs both scored. The quality on the bench is up there with the 11 who are playing."
And Dwyer paid tribute to Mackay's management and the way he has built his squad.
"He has had a lot of money to spend which he's spent wisely," added Dwyer.
"He knows what type of player can help Cardiff City. [It's] definitely the strongest squad they have had for years.
"I wouldn't like to go through the play-offs again. We had a disaster last year.
"The squad is good enough to finish in the top three."