Dundee Utd manager Peter Houston open to new deal
Last updated on .From the section Football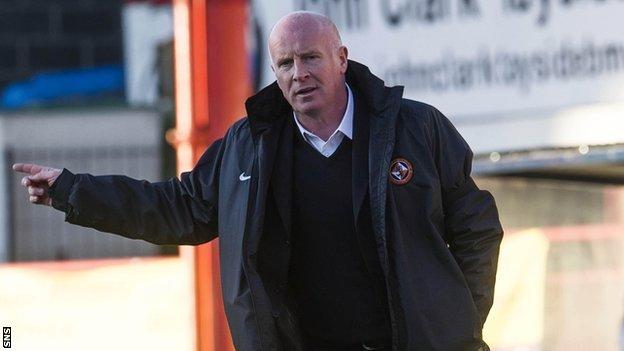 Dundee Utd manager Peter Houston has said he would be happy to stay at the club - if he is offered the right deal.
Houston told BBC Scotland's Sportsound programme that he would sign a similar deal to his current contract.
"I'm happy at Dundee Utd, but you have to make sure you've the proper contract, if it's a similar contract then I'd be happy to stay," he said.
"Hopefully we can come to some agreement, because I've never stated that I want to go."
However, Houston said he recognised that clubs were in a different financial position, and that could affect his decision.
"Every club's having to take cutbacks, but all I'm saying is we've finished third, fourth, fourth, we've won the Scottish Cup.
"I've been on that salary for three years and if it's something similar I'd be more than happy to keep it."
The Terrors boss, whose contract expires in May, had raised concerns in September at the lack of a new offer from the club.
"I'm in my last year, I've got six months to go yet, but it's something I'd like to get settled and put to bed," he said.
"The sooner it happens - or doesn't happen - the better, so we all know what's happening."
And Houston also insisted his relationship with chairman Stephen Thompson had grown stronger over the past year.
"We had our problems round about this time last year, but now there's an openness.
"I do get invited to board meetings, I get to state my case. That wasn't happening before and it is happening now."
Houston also said he was keen to strengthen his defence in the upcoming transfer window, but conceded that defender Milos Lacny would return to parent club Sparta Prague in January.
"I'd like to strengthen with a couple of players in January. Whether the finance is there to allow me to do that, we've yet to speak to the chairman about.