Foreign players to get cultural lessons to tackle racism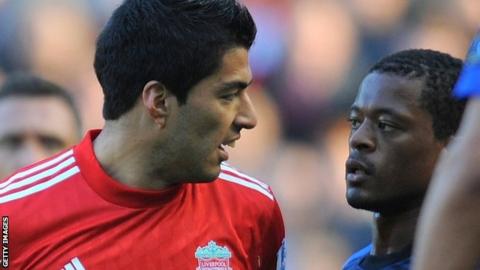 Football's governing bodies are considering the introduction of cultural lessons for foreign players as part of a series of measures to tackle the recent increase in racially related offences in the English game.
The BBC has learned the proposal forms part of a detailed response from football to Prime Minister David Cameron's demands earlier this year for tougher action to tackle discrimination.
The 93-point document, called 'English Football's Inclusion and Anti Discrimination Action Plan', also includes a recommendation for clubs to introduce a mandatory anti-discrimination clause in all players' and managers' contracts.
Although some clubs add their own clear policies on how employees will be dealt with in the event of racist or discriminatory behaviour, it is not currently part of the standard contract for managers and players.
But it is the idea that foreign newcomers to English football should be inducted in what the document describes as the "British cultural environment" which may prove the most eye-catching.
The move is a direct reaction to the controversial racism case last year involving Liverpool's Luis Suarez, who was banned for eight games by the Football Association for racially abusing Manchester United player Patrice Evra.
Suarez admitted calling Evra "negro" but claimed in his disciplinary hearing that this was not racist as it was a term widely used in his home country of Uruguay.
The FA dismissed the argument but by proposing the crash course in English life there is an acknowledgment that more needs to be done to help educate the significant number of overseas players, particularly in the tinder box atmosphere of the Premier League.
The percentage of foreign players in the Premier League is falling but is still more than 60%, while in the Football League it is 20%.
The action plan follows David Cameron's hosting of an anti-racism summit for football at Number 10 Downing Street in February.
That was a response to the high-profile cases involving Suarez and the former England captain John Terry, who was banned by the FA for four matches for racially abusing QPR defender Anton Ferdinand.
Since then the game has been dealing with a number of race-related incidents including the allegation from Chelsea that referee Mark Clattenburg racially abused their player John Mikel Obi - an allegation which Clattenburg was completely cleared of - and a number of fans making monkey gestures and chants at players.
The latest came this weekend with Manchester police confirming they were investigating one fan for alleged racial abuse during the Manchester derby on Sunday and Norwich defender Sebastien Bassong accusing a Swansea City supporter of making racist gestures at him during their match on Saturday.
Football's anti-racism action plan was discussed at another meeting at the FA on Monday and, although the Government is hoping to see an announcement before the end of the year, it might not be signed off until February when the Premier and Football League clubs are due to meet next.
Separate to this, the FA is considering introducing a fixed ban for racist offences to avoid the discrepancy which occurred with the length of bans handed out to Suarez and Terry.