Irish FA submits planning application for Windsor project
Last updated on .From the section Football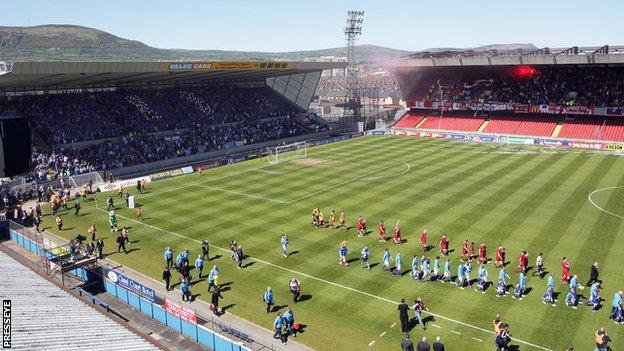 The Irish FA says work on the Windsor Park redevelopment is due to begin next September after it formally submitted its planning application for the project.
Around £29.2m is being spent on the Windsor Park project which will raise the stadium's capacity to 18,000.
The IFA said on Tuesday that work will begin next September "if the plans are given the green light".
The submission of the application follows a consultation process.
People across Northern Ireland were given the opportunity to submit thoughts on the project after viewing the the planning application.
The design team, led by RPS Consulting Engineers, and the IFA then finalised the planning application before its submission.
"RPS are pleased that the planning application and supporting environmental reports have been submitted on time," said Raymond Holbeach from RPS.
"The planning application has been submitted following an intensive period of community and statutory body consultation as well as completion of environmental and transport assessments that influenced the development of the design for the Stadium.
"The redeveloped Stadium will result in environmental benefits for the local community including reduction in noise and light pollution."
IFA chief executive Patrick Nelson said he was "delighted that the planning application has finally been submitted".
"We had made it a key target to have our planning application submitted by this date and I am delighted that we have achieved this," added the IFA chief.
"The design for our redeveloped National Stadium truly is impressive, and I would like to thank everyone who took the time to give their thoughts and ideas to us during the community consultation process.
"I know that the new Windsor Park will be a stadium we will all be proud of."
The Northern Ireland Executive has endorsed up to £110m for regional stadium development across football, GAA and rugby.
This includes £25m government funding for the Windsor Park project which is scheduled to be completed by the summer of 2015.