Brede Hangeland thrilled with Fulham win over Newcastle
Last updated on .From the section Football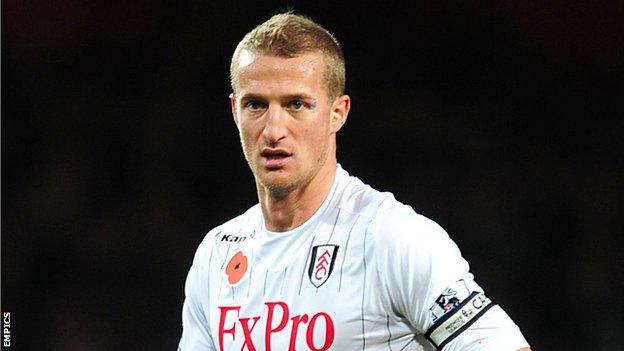 Fulham captain Brede Hangeland was delighted to return from suspension and lead the side to a 2-1 victory over Newcastle United.
He told BBC London 94.9: "It's been very frustrating to not be able to play the last few weeks. To come back and be part of a win was a great feeling.
"I've always played all the games at every club I've been at."
The Norway international continued: "I absolutely hate watching [from the sidelines]. It's terrible,
"You just want to be on the pitch and able to help out as best you can.
"Sunderland was a nightmare game where everything went wrong. I felt responsible to a certain extent for that.
"I want to put that bad couple of weeks behind me, look ahead and hopefully play the rest of the games this season."
Monday night's win over Newcastle was Fulham's first in eight league matches and kept them 13th in the Premier League table.
"There were quite a few chances both ways. It was end-to-end and it felt like a hundred miles an hour from kick-off to the final whistle," said Hangeland.
"It was a must-win game and we are relieved we could do that and bank the three points."
Fulham's next match is away to west London rivals Queens Park Rangers.
And despite Rangers having set a new Premier League record of 16 games without a win at the start of the season, Hangeland says there must be no complacency.
"That sort of statistic doesn't mean anything when you go into a local derby," he said.
"We know they have lots of talented players and that first win will come sooner or later. We'll do our best to make sure it doesn't come on Saturday."
Meanwhile, negotiations over extending Hangeland's contract at Craven Cottage, which expires at the end of the season, are still ongoing.
"I'll leave all that to my agent," he added. "Obviously at the moment I haven't signed any contract yet."