Jacques Anouma hits out at Caf presidency decision
Last updated on .From the section Football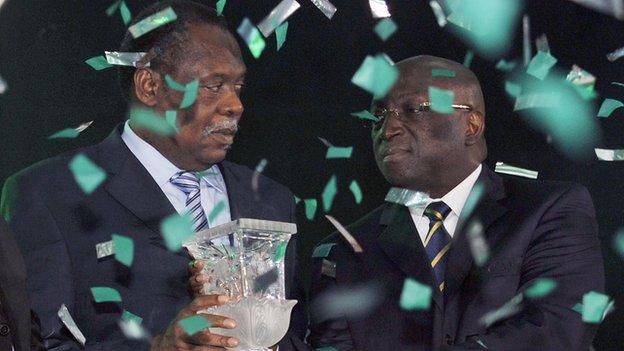 Jacques Anouma has reacted angrily to a decision to prevent him from running as presidential candidate for the Confederation of African Football.
He labelled Monday's final decision by Caf's executive committee as 'scandalous.'
African football's governing body has decided that Issa Hayatou, who has led Caf since 1987, is the only official candidate for its election in March
The Ivory Coast Football Federation nominated Anouma despite him being barred by a rule which allows only voting members of the Caf board to stand.
Caf's congress in Seychelles in September voted to adopt a controversial new statute that meant only voting members of the executive committee can contest presidential elections.
Anouma is one of Africa's representatives on the Fifa executive committee by virtue of which he sits on Caf's Executive Committee as a non-voting member.
He criticized Hayatou's tactics as "all kinds of maneuvers which belong to a past era," in a statement on his website on Tuesday.
The 60-year-old Anouma has now pledged to challenge the election rules.
"We note this scandalous decision which doesn't honor African football, nor the confederation responsible for governing it," the Ivorian said.
"We will continue to work with more determination to one day give our continent a football confederation that is truly democratic, transparent and looking toward the real challenges of the future."
Anouma will likely find support from the Liberian federation which has already challenged Hayatou's rules at the Court of Arbitration for Sport.
The court told Liberian officials they must first exhaust Caf's internal appeals process before they are able to make a judgement.
The Caf election congress is scheduled for March 10 in Marrakech, Morocco.