Neil Lennon upbeat after meeting with SFA's compliance officer
Last updated on .From the section Football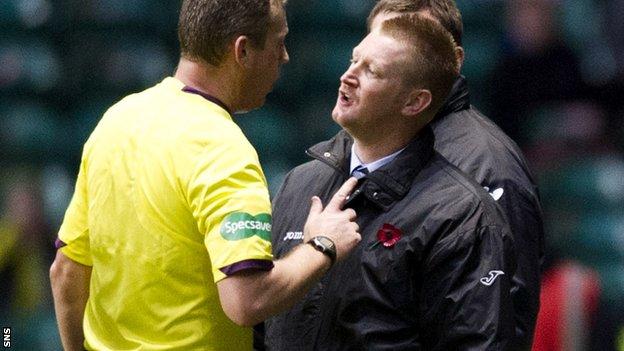 Celtic manager Neil Lennon has revealed he was encouraged by a meeting with the Scottish Football Association's compliance officer, Vincent Lunny.
Along with other managers, he talked to Lunny and the SFA's head of referee development following recent disciplinary problems.
"It was very productive," said Lennon.
"It wasn't a question of any heated arguments, it was just points being put across from both sides and John Fleming came in for the last hour or so."
The meeting followed a recent plea by Lennon for better communication between bosses, referees and the Scottish FA to provide clearer guidelines on acceptable behaviour.
And he was accompanied by St Johnstone's Steve Lomas and Kilmarnock's Kenny Shiels, who have both been the subject of disciplinary action this season, and Dunfermline Athletic's Jim Jefferies.
Lomas, currently the subject of an eight-match touchline ban, faces further sanctions after being called before an SFA disciplinary hearing later this month for kicking a water bottle during his team's 1-0 defeat against Hibernian on 28 November.
Shiels has been served with two separate notices of complaint from the Scottish FA.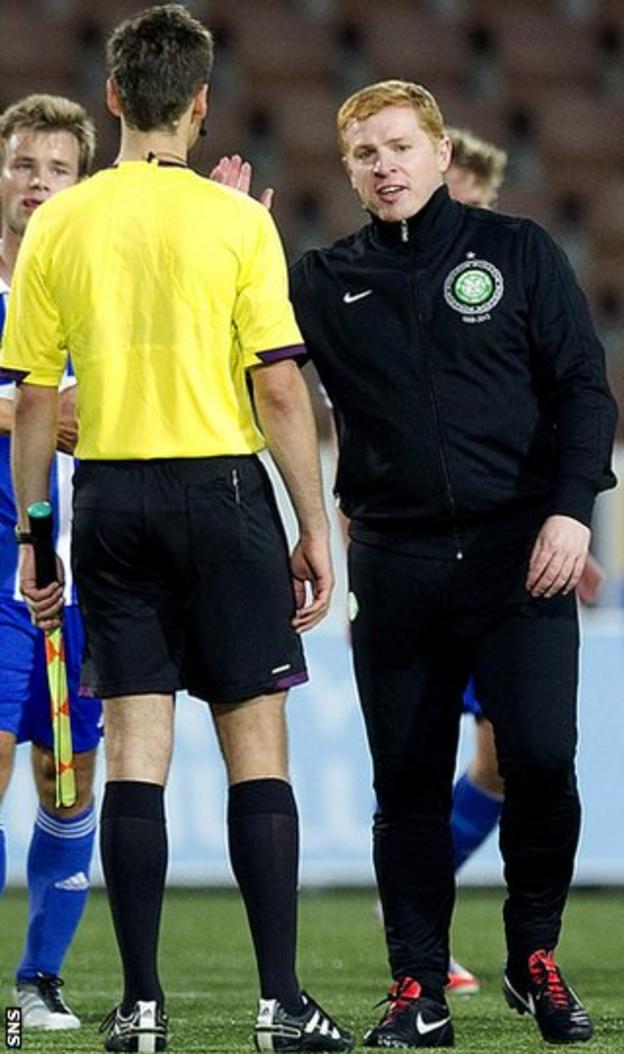 The Rugby Park boss has to explain critical remarks made about referee Euan Norris after his side's defeat by Inverness on 3 November.
He faces further scrutiny after protesting against the red card shown to his captain, Manuel Pascali, during a home defeat by St Johnstone last month.
Lunny will meet with all the Scottish Premier League bosses in the new year, but Lennon believes progress has already been made in a bid to eradicate some of the tension between managers and the authorities.
"Alex Smith, head of the managers' association, was there and we are hoping to draw up a few proposals to take to Vincent and see where that takes us," said the Celtic manager.
The managers were particularly seeking clarity about what can be said in post-match press conferences.
"One rule was brought up - we feel that there is a vague sort of grey area in the rules and sanctions on managers as well," said Lennon.
"I don't want to go into it in depth because there were a lot of things said that will remain private, but it was very productive."
Meanwhile, Lennon is perplexed at why SPL secretary Iain Blair was quoted in the media saying that fixtures cannot be moved to help Celtic with their Champions League hopes.
"We have never asked for it, so I don't know where this story has come from," said the Celtic manager.
"I don't know why people are asking Iain Blair, but Iain has come out and said that it is going to be very difficult to do that.
"It would put the SPL in a difficult position because they have been criticised for not helping teams in the past, so I wouldn't expect that to happen to us. We will deal with it."