Danny Guthrie refused to travel to Sunderland - McDermott
Last updated on .From the section Football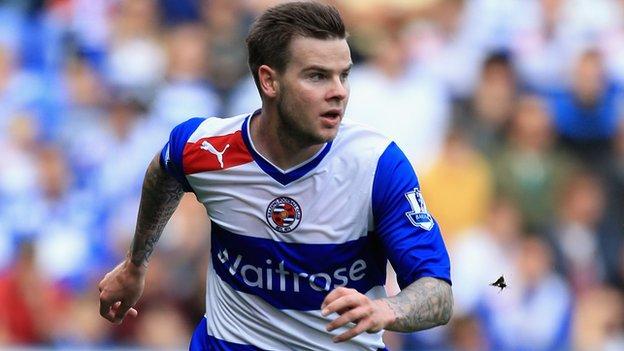 Reading boss Brian McDermott has revealed midfielder Danny Guthrie refused to travel with the team for their defeat at Sunderland.
The Royals lost 3-0, leaving them second bottom of the Premier League.
"Danny decided his head was not right to travel yesterday morning [Monday]," McDermott told BBC Radio Berkshire.
"You'll have to ask him why that is. It's not helpful as we need our players going in the right direction. Danny was definitely going to be involved."
On Wednesday, Reading said "the matter has been dealt with internally". The maximum penalty available would be a fine of two weeks' wages.
Guthrie, 25, has played just six times for Reading since his free transfer from Newcastle in the summer and his future at the club is now in doubt.
"This is not a conversation for now." McDermott said. "I will have to see where we are in the week and wait and see what happens with that.
"He texted me to apologise last night [Monday] and it is an unfortunate situation to say the least.
"The most important thing to me is the group and the spirit and that will never change. The individual's ego has to go out of the window. That's why we've been successful over the past few years. That's why we've done so well over the past three years.
"This football club is in a better place than it was three years ago, a better place than it was a year ago, there is no doubt about that. We know where we are at and we need everyone going in the same direction."
Guthrie has not played for Reading since 20 October. He was forced to apologise to the Royals boss in October following comments made on Twitter after he was not selected against his former club, Newcastle.
The pair were also reported to have had a bust-up later that month, although that was later denied by McDermott.
Reading's defeat on Tuesday left them six points from safety in the Premier League.