Heather Rabbatts wants greater leadership in fight against racism

By David Bond
BBC sports editor
Last updated on .From the section Football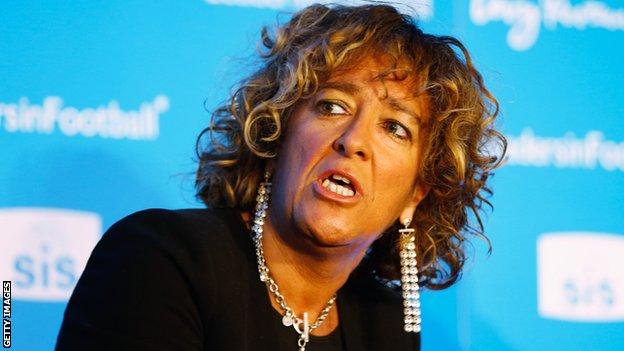 Football Association board member Heather Rabbatts has backed Kick It Out chairman Lord Ouseley's calls for greater leadership in the fight against racism.
In an interview with the BBC, Rabbatts said Ouseley's expected departure from the FA council would be a "big loss".
But she added that many of the points he raised were of "real significance".
Rabbatts said: "The game we know is facing some very big challenges and the call for leadership is appropriate."
Ouseley launched a damning attack on the football authorities using two newspaper interviews to criticise the handling of the fall out from the John Terry and Luis Suarez racism controversies.
He said there was a "moral vacuum" in the game and attacked what he described as a lack of leadership.
The BBC understands he has not yet resigned his position on the FA council but he believes his position is now untenable.
He held talks on Tuesday with the FA chairman David Bernstein and will have more talks with him on Wednesday.
It is not yet clear if he will quit Kick It Out - 15 years after he was appointed to head up the action group.
Rabbatts said: "Many of the points he makes are of real significance.
"Within the FA there's been significant amount of work done in these last months and there's a range of proposals out for consultation.
"The leadership we have seen in terms of the decisions that have been made - whether that's Terry or Suarez - there are very effective processes in place.
"But when I talk to younger players - who are the next generation - they are shocked, they didn't expect they would experience something like this.
"Their fathers and uncles who experienced that sort of taunting from the stands, they thought that was never going to happen to them. For them this has been awful and shocking so football has to have a voice that says we will address these concerns.
"But Lord Ouseley's comments are a timely reminder for everyone in the game, for all of us to come together with a renewed sense of energy to tackle these issues which are so damaging.
"I think it would be a real loss to lose that voice we need diversity, he has been one of the first members of the FA council who has brought that experience with him. So that will be a loss if he goes.
"He has made a huge difference and we should pay tribute to Lord Ouseley's leadership."
Rabbatts, who was also an active member of the Kick It Out campaign, before becoming one of two independent directors on the FA board, said there were a range of reasons for the recent return of racist incidents in the sport.
She added: "Many people would argue that in times of economic duress you get more incidents. I think there's more effective reporting. Mistakes are made but the remedies are more effective than 20 years ago.
"Right at the beginning of the year there was a call from Number 10 (Downing Street) to come together and deal with the issues the game was facing. What is really important is we won't address this by ourselves. Everyone needs to play their role."
On the proposal to introduce English cultural lessons for foreign players new to the country, she added: "It's important that anyone playing the game understands the values we have - but that's only one part of the agenda.
"The idea of having an action plan is not only a matter of education....nothing's perfect but we need another concerted effort to meet the challenges we face."