Bristol Academy: Manager Mark Sampson sees squad ambition
Last updated on .From the section Football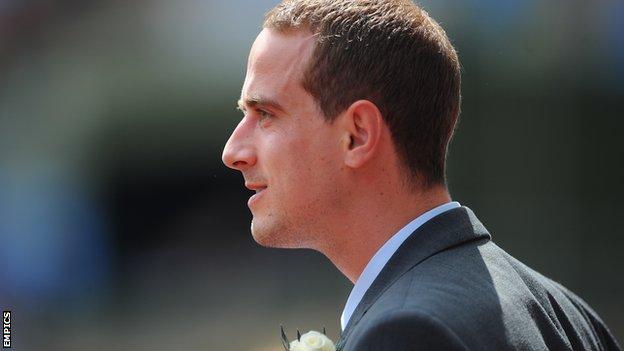 Bristol Academy boss Mark Sampson says the re-signing of key players proves the club's ambition for next season.
And the Vixens have bolstered their squad with the signing of Lucy Staniforth from Women's Super League rivals Lincoln Ladies.
"With Jess and Laura re-signing, it shows we are moving in the right direction," he told BBC Radio Bristol.
Spain international Del Rio finished top scorer in her debut second in Bristol, while Fishlock, who represents Wales, is in her second spell with the club and was named Football Association of Wales' player of the year in October.
Staniforth, an England Under-23 midfielder, joins the Vixens after two seasons with Lincoln.
"Laura was an important part of our plans last year," continued Sampson. "We had a lot of interest from other clubs, not only in the UK but in Europe, so it's a big statement of intent for the club.
"The fact that we've secured her services speaks volumes for the way the club is being run.
"Lucy's one of the best young players in Europe and it's another statement from the club. I think she'll play a big part."
Bristol finished fifth in their first season in the Super League, and also qualified for Women's Champions League in the 2011 after reaching the FA Cup final.
This year they finished fourth in the league and Sampson believes they will continue their steady success.
"Our club has grown immensely over the past few years and we want to continue that progress," he said.
"People looking from the outside thought it might be the season we plateau, or even dropped back.
"But we are determined to keep moving forward. We were very close to getting that second spot and getting that European place.
"Having experienced that in our first season, it's something we want to achieve again. We're bringing in players who will help us achieve that."