Greg Abbott: Carlisle chairman denies manager review
Last updated on .From the section Football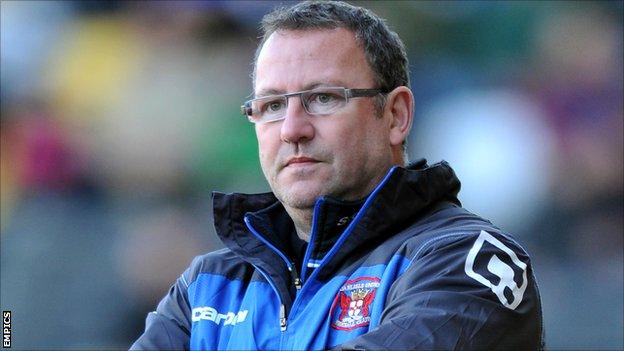 Carlisle chairman Andrew Jenkins has denied the future of manager Greg Abbott's position is under review after comments by a fellow board member.
Director Norman Steel told BBC Radio Cumbria the position was reviewed on an ongoing basis, with the end of January cited as a time scale.
"On behalf of the board of directors I can confirm that there have been no discussions at all," Jenkins said.
"There have been no time frames set in any way by any member of the board."
He added: "The views expressed to BBC Radio Cumbria on Tuesday night were not representative of the feeling of the board of directors and are not a reflection of our current stance."
United have won just one of the last seven games in League One and are only four points above the relegation zone, but at the fans' forum last week the board were unequivocal in their support for Abbott.
Steel, who is a member of the Carlisle United Supporters' Trust and a member of the board at Brunton Park, said that was still the case after Saturday's 3-1 defeat by Sheffield United but stated there was "a contingency in place".
"The managerial situation is reviewed on an ongoing basis," Steel told BBC Radio Cumbria.
"We are not looking to replace the manager at this time. We think with the amount of injuries he's had to put up with and other situations at the club, it's hopefully a matter of time before the situation is turned round.
"[If results did not go well] our thoughts could change, there's always a contingency in place.
"I don't think it's the right solution every time to sack the manager on the back of four or five bad results.
"It is the board of directors that appoint the manager in the first place, so surely there is some responsibility on the board to honour the agreement they have with the manager."