Arsene Wenger & Arsenal: It's crunch time

By Phil McNulty
Chief football writer
Last updated on .From the section Football717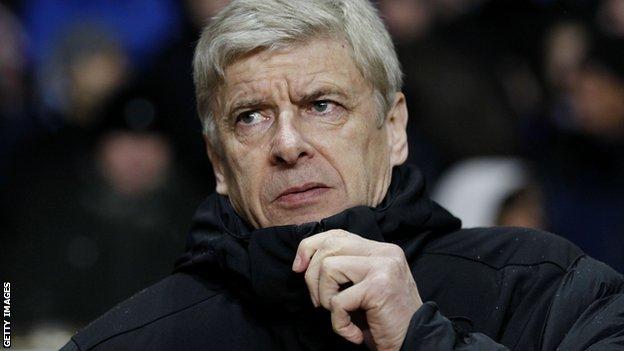 Arsene Wenger has never disguised his belief that the League Cup is rooted firmly at the bottom of his list of priorities as Arsenal manager - how the tournament has taken its revenge on him.
His words that night, when this trophy went under another guise, were: "We have not won a trophy since 2005 but I don't concede if we win the Carling Cup we can then have a parade with the trophy. It is a competition for our young players. To play the quarter-final of the Champions League, or the semi-final or final, is ten times more difficult than to win the Carling Cup."
The problem Wenger has had in the intervening years is that he has not won anything - let alone the League Cup - and Tuesday's defeat on penalties to League Two Bradford City was a new, humiliating low in his time as Arsenal manager.
And, with even greater irony, it was a defeat inflicted on a strong Arsenal team that simply confirmed Wenger's trophy-winning emphasis has shifted, lowered even, as he becomes even more desperate to end the barren years without silverware.
After such a significant spell without success, beggars cannot be choosers when it comes to winning trophies. And no-one should doubt that is the category Arsenal and Wenger now occupy.
In the good days when honours used to arrive at Arsenal on a regular basis, the competition was a proving ground for the young talent hidden from wider view at their London Colney training ground. It was expendable. Not any more.
Wenger now needs to win it, not least because it may represent his best chance of a trophy but also as tangible evidence that he can still bring in those successes.
Sadly for Wenger, Arsenal's current stock is so low that even when he makes an active attempt to win a trophy he once treated as, at worst, an irrelevance and at best a minor bauble, it still eludes him and them.
This is what will make the events of a chilly night in Bradford so painful - and the lowest point in this iconic Arsenal figure's reign.
As it is to Wenger's credit that he guided Arsenal to the knockout phase of the Champions League for the 13th successive season. Fourth place remains in sight in the Premier League - but nothing can shield him from the brutal truth that losing a cup tie to team currently lying fourth in League Two puts him under greater pressure and scrutiny that at any time during his time at Arsenal.
Jack Wilshere was a glowing exception - a shining light amid deep gloom for Arsenal and Wenger. Too many of his big players were found wanting in the unforgiving atmosphere at Bradford and Gervinho almost seems to be making it his personal mission to prove the manager has lost his once golden touch in the markets.
The concern is growing that Wenger and Arsenal are now fixed on course to make it eight years without a trophy.
The League Cup has gone and it takes an unfathomable leap of the imagination to picture Arsenal as winners of the Premier League or Champions League.
This leaves the FA Cup and a third-round trip to Swansea City. This is the same Swansea City that reduced some areas of The Emirates to open rebellion with a comfortable 2-0 win recently.
Plenty rides on this fixture but there is much for Arsenal to do before then. If Wenger's team was in rude health he could point towards a run of potentially accommodating fixtures.
Arsenal, however, are currently the team that cannot be trusted so the next four Premier League fixtures must be placed in a more dangerous context.
The Gunners visit Reading on Monday with defeat nigh-on unthinkable, before travelling to the great unpredictables of Wigan just before Christmas. Home games against West Ham and Newcastle follow before the new year and the FA Cup visit to Swansea.
All games could be won - but the current state of Arsenal means this is nowhere near a certainty.
What is certain is Wenger has never needed victories more in his 16 years at Arsenal. The club's hierarchy has been a target for supporters complaining about a lack of ambition and direction but eventually the serious questions always drop on the manager's doormat.
Wenger now faces the biggest month as Arsenal manager and must approach it trying to heal wounds from his most embarrassing defeat.