Grassroots football to use racial quotas for referees and coaches
Last updated on .From the section Football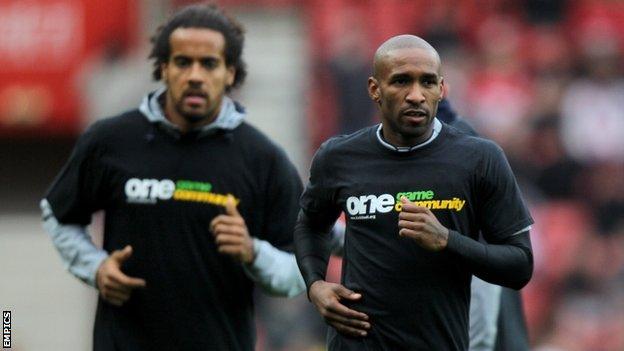 A new anti-racism plan includes a proposal to introduce quotas of no less than 10% of all referees and coaches from black and ethnic minority communities in grassroots football.
The Football Association is set to release a 93-point document, called 'English Football's Inclusion and Anti-Discrimination Action Plan'.
The new quota will apply for coaches at entry level and amateur referees.
The standard will not be enforced in the Premier League or Football League.
The FA feel it would be harder to enforce quotas at that level because appointments of coaches and referees are based on their ability.
There has been no date set for the introduction of the ruling.
Football's governing bodies are also considering the introduction of cultural lessons for foreign players as part of a detailed response from football to Prime Minister David Cameron's demands earlier this year for tougher action to tackle discrimination.
Meanwhile, plans for a minimum five-match ban for racist abuse have been backed by the Professional Footballers' Association.
The FA have yet to endorse the sanction, but it is one of a number of ideas being discussed.
"The PFA have agreed proposals with the FA that 'racist abuse' should carry a minimum five-match ban," they said on their Twitter page.
Chelsea captain John Terry
Liverpool's Luis Suarez received an eight-match ban in December 2011 for his abuse of Patrice Evra.
PFA chief executive Gordon Taylor said: "We are not opposed to it [a minimum five-match ban].
"We want there to be some consistency and to illustrate the seriousness of our approach to this issue."