Wenger has 'considerable' funds, Supporters Trust is told
Last updated on .From the section Football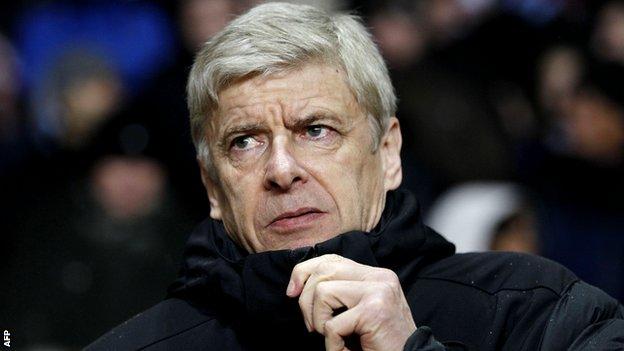 Arsenal manager Arsene Wenger has been given "considerable resources" to spend in the January transfer window, Arsenal Supporters' Trust have been told.
The AST met the club's chief executive Ivan Gazidis on Wednesday evening to discuss Arsenal's poor season.
"There is plenty of money there," said Trust spokesman Tim Payton. "That was the message that Ivan and his finance director were giving this evening."
The Gunners exited the Capital One Cup
Arsenal supporters wanted answers as to why Wenger had been reluctant to spend money on new players and 100 fans met with Gazidis to voice their concerns.
"He stayed for over two hours," said Payton. "He apologised for the result [at Bradford] and said it was not good enough and had to be better.
"The Arsenal fans were dissatisfied with the strength of the squad and particularly don't understand whether there were resources to be used.
"I specifically raised this with the finance director and his colleague and they were in no doubt there is considerable resources available to the manager ready to spend when he has identified the players he wants to sign.
"It's crystal clear that Arsenal fans need to wait until January for Arsene Wenger to use the cheque book he has been given well."
Arsenal currently find themselves seventh in the Premier League but the Trust believe Wenger should be given the chance to take the club forward if he spends wisely in January.
"Lots of people have asked me whether Arsene Wenger should go," added Payton.
"He certainly needs to change and improve, spend the money he's got, strengthen the set-up around him and the results will be the judge."