Steven Naismith: Leaving Rangers hardest part of my career
Last updated on .From the section Football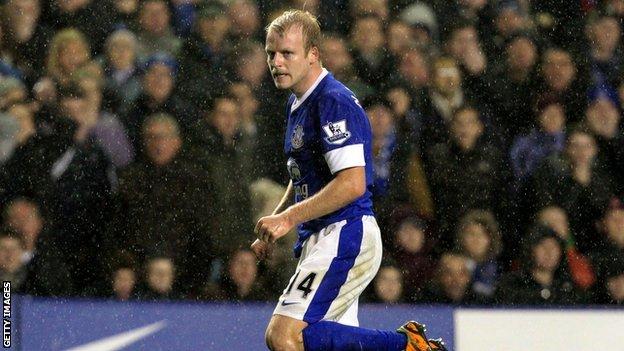 Former Rangers forward Steven Naismith says leaving Ibrox was "the hardest part" of his career so far.
Naismith, , was one of a number of players who rejected having their contracts transferred when Rangers were relaunched in the summer.
And he acknowledges that fans were angered by those decisions.
"When it becomes your job and your livelihood and you need to make decisions that are for your future, for your family's future," said Naismith.
"There's a period of disappointment and anger and I think a lot of fans have felt that way probably personally about me and a few of the players that left that were fans of the club.
"I can honestly say without doubt it was definitely the hardest part of my career since I started at the age of 15.
"It's been a difficult time, mostly for the fans. A year-and-a-half ago, who would've thought Rangers would've been in the bottom tier of Scottish football?
"The squad's changed a lot. A lot's happened in a short space of time and everybody's probably not processed every part of it.
"There's still enquiries going on so it's not a great time but the positive you've got to take from it is they're sitting top of the league now and they've started rebuilding.
"The manager's been able to concentrate mainly on football and football alone, probably for the first time since he's become a manager."
"The whole situation regarding legal fights is something that I've not been involved in, I'm not aware and something of and I'm not interested in being involved in," added Naismith.
"Rangers have opened a case against the players that left in the summer but every player took advice and I stand by my advice and I've taken the decision to move on. It's in the hands of the lawyers."