Brentford surprised at Bradford City FA Cup U-turn
Last updated on .From the section Football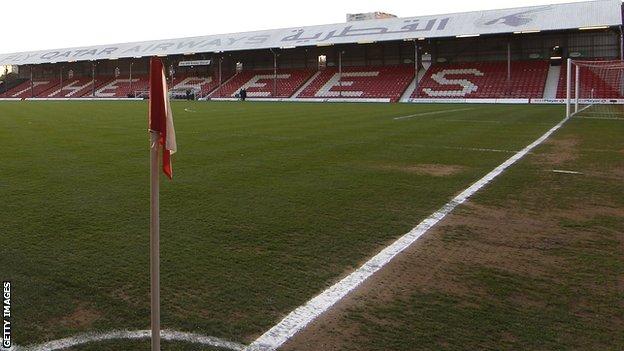 Brentford chief executive Mark Devlin says he was surprised by the Football Association's decision to reinstate Bradford City in the FA Cup.
"We're a little perplexed," Devlin told BBC London 94.9. "We fully understand Bradford's situation but we didn't anticipate the appeal being upheld.
"Everyone at the club has not been preparing for the game. It gives us very little time to arrange."
Last week Bradford were kicked out of the FA Cup after fielding on-loan Newcastle defender Curtis Good in their original second round tie with Brentford, which ended in a 1-1 draw.
The FA said Bradford had not registered Good to play in the competition before the requisite deadline.
However, the League Two side appealed and the FA reversed the decision on Wednesday, saying in a statement that it was a "genuine error" on Bradford's behalf and that "no attempt to deceive was made".
Bradford were instead fined £1,000 and the replay with the Bees will now take place on Tuesday, 18 December.
"It's a precedent now that the FA will have to deal with," Devlin continued.
"If there is anything of this nature in future the punishment can't be to expel the club, I guess.
"If clubs commit a similar paperwork error then it will be very difficult for the FA to expel a club from the competition.
"I've read some of the detail and rationale behind the reversal of the initial decision and it is a bit difficult to follow the reasoning."
Newcastle United had sent a letter to the FA supporting the Bantams' appeal.
"Newcastle gave an opinion and thought the decision to remove Bradford from the Cup was a bit harsh," Devlin added.
"With the greatest respect it's not really Newcastle's place to make that comment.
"We weren't invited to the appeal or asked for an opinion."
Brentford have confirmed they will not appeal against the decision and Devlin accepts they will have to play the second round replay at Griffin Park next week.
"At the end of the day, no matter what we feel about the decision we have to take it on the chin," he said.
"It is what it is now and we will play the game next Tuesday.
"We've got to fit in a game against Bradford in the FA Cup ahead of a very important game against Stevenage in the league.
"It will put more stress on the team and adds to the burden.
"There's no point bleating on about it. We've just got to face it and take the challenge ahead of us.
"Uwe Rosler [Brentford manager] will get the players up for it and prepare for what's likely to be a very difficult game.
"We all want to progress to the third round."