Michael Owen's Stoke return weeks away, says Tony Pulis
Last updated on .From the section Football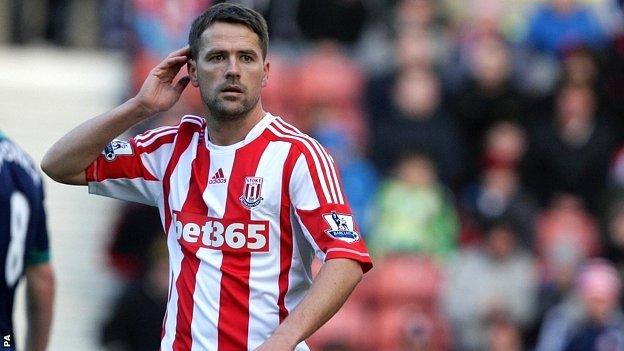 Stoke City striker Michael Owen is still weeks away from a first-team return despite a 70-minute run-out in a private friendly, boss Tony Pulis said.
Owen, 32, declared he was "raring to go" after playing against Preston behind closed doors on Tuesday, but Pulis is wary of rushing him back.
"He needs another couple of weeks of full training," said Pulis.
"Every time we've tried to get him in there he's broken down. Maybe that's because we've tried to push him a bit."
Since signing for the Potters this summer, Owen has made only four substitute appearances. In total, since returning to English football from Real Madrid in August 2005, he has been restricted to 135 club appearances.
Owen wrote recently that he believes that playing too many Premier League matches at too young an age had meant he had become injury-prone in the latter part of his career.
His progress at the Britannia Stadium has been checked by groin and hamstring injuries and Pulis will not risk a recurrence by naming him in the matchday squad for the visit of Everton on Saturday.
"Michael did smashing on Tuesday, came through 70 minutes, but he needs more work on the training ground, a bit more strength," he added.
Stoke have scored 14 goals in their 16 Premier League games so far this season, a tally that is worse than every other team apart from QPR and Aston Villa.
Peter Crouch, whose partnership with Owen for England yielded 16 goals in as many games, is the club's top-scorer this campaign, having found the net five times.