Brighton boss Gus Poyet eyes Jake Forster-Caskey return
Last updated on .From the section Football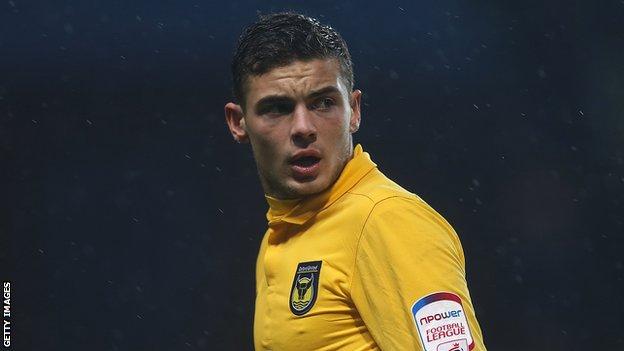 Brighton manager Gus Poyet hopes Jake Forster-Caskey will return from his loan spell at Oxford in January and compete for a place in the first team.
The 18-year-old midfielder has scored three goals in 18 appearances for the League Two U's this season.
Poyet told BBC Sussex: "Jake is playing a lot, which is what we needed.
"As soon as you play 20-plus games in any professional division in England, you grow up a lot. I'm sure he is going to be a better player."
Forster-Caskey scored two goals in six games for Brighton last season and signed a new three-year contract in the summer.
Poyet has been impressed by the development of the teenager's game since he joined the U's.
"He is playing different positions as well in what is a very difficult and tough league," the Uruguayan added.
"We will get him back in January. At the moment that is the idea.
"I am sure he is going to be a different person.
"When Jake comes back, if he is better than the other midfielders, he will [play]. I've got no doubt."
Meanwhile, Poyet says forward Ben Dickenson will have to continue learning the aspects of Brighton's passing and possession system before being thrust into first-team action.
The 19-year-old, who joined the Seagulls from non-league side Dorchester in January, is currently on loan at League Two outfit Chesterfield.
"It was different with Ben," Poyet said.
"We had a chance to give him a loan move early but we decided to keep him and tell him what we do here and how we play here - the basics.
"He had a great opportunity to go and play and, without having the time to really coach him, we decided to let him go to make sure that he plays.
"We'll see how it goes because it's important he learns the whole system that we want to play here before he starts deciding where he is going to play."
Poyet believes Dickenson has the potential to add another aspect to his side's attacking play.
"Ben has got different things sometimes we don't have," Poyet continued,
"We have got speed on the right side with Will Buckley. Kazenga LuaLua likes to play on the left and has short-distance kind of speed.
"Ben has got long-distance [speed] and is strong.
"He is young and he didn't play the way we want him to play [when he arrived from Dorchester], which is a whole new process.
"It's very difficult to know if a person is going to get all that.
"Not everybody learns the same way and understands the game the way we would like."