David Luiz: From PlayStation defending to midfield maestro
Last updated on .From the section Football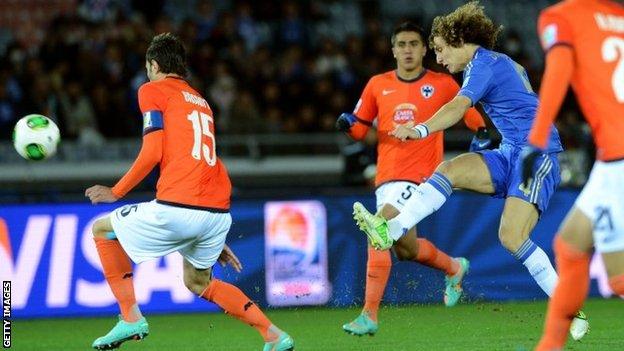 "He plays like he's being controlled by a 10-year-old on a PlayStation."
Last November, Chelsea's David Luiz was the subject of this heavy criticism from former Manchester United defender Gary Neville for his erratic defending and lack of positional sense.
It earned a stinging rebuke from then boss Andre Villas-Boas, who called
A classy, ball-playing centre-half, 25-year-old Luiz has often shown touches of flair at the back during his two years in England following his £21m move from Benfica.
On Thursday, Chelsea boss Rafael Benitez played the Brazil defender, who has 16 caps for his country, in midfield for the
The Brazilian excelled, hitting an early shot over the top and creating a good chance for Eden Hazard with the pass of the match during a dominant opening half hour for the Blues.
Former Chelsea winger Pat Nevin believes that not only is Luiz more suited to a future in a midfield role, but his passing ability and vision could help bring the best out of £50m striker Fernando Torres.
"Right from the start he looked more comfortable in midfield than he does at centre-half, just as many people suspected he would," said Nevin.
"It has been slightly disappointing that no one has thought to put him in midfield until now. He was doing all the things you would expect him to do in that position.
"As a deep lying midfielder he can go forward and break from there, he can pass from there and that is what Chelsea have needed.
"People argue about why Fernando Torres has not been doing well. The two sitting midfielders for Chelsea have not been players who stop, get their head up and look for the forward pass for a long time. Luiz does it all the time.
"Rafael Benitez wants his players to get the ball, pass and move forward and Luiz is comfortable doing this."
While with a knee injury, and Luiz could establish himself in midfield over the coming weeks.
With his work done, Luiz came off after an hour of the win over Monterrey to be replaced by Frank Lampard, who is returning to full fitness following a spell out with a calf injury.
The tempo of Chelsea's play slowed with Luiz's withdrawal, and Match of the Day pundit Robbie Savage sees Lampard and Luiz as the key to the Chelsea midfield under Benitez.
Savage said: "Luiz looked very good, he always looks forward and he played a great pass to Eden Hazard. He is looking comfortable in midfield.
"It is early days but for me the best two players to play in that position are Luiz and Frank Lampard, when he is back."
During Chelsea's dominant first-half display in Japan, Luiz frequently broke up Monterrey attacks alongside John Obi Mikel, before setting off up field with the ball at his feet.
Benitez was pleased with his dynamic display and sees the Brazilian as a versatile member of his squad.
The manager said: "I know David from Benfica, where he was playing centre-back, left full-back, right full-back, in many positions.
"David is quick and can regain a lot of balls and, at the same time, can play passes to our players.
"We needed to be strong in the middle and Luiz has pace and is good with the ball and gave us balance.
"He's good in the air and he is good with his feet so he was important for us."
Nevin believes that Luiz showed enough against the Mexicans to suggest that he could become a fixture in midfield.
"People forget about Luiz, he is one hell of a unit and he goes through that midfield like a colossus," said Nevin. "There is a step up in class to come, but you don't learn that position overnight and he has everything you need to play that position.
"It might well be tougher for him against tougher opposition but I think the positives he gives you outweigh the negatives."
As for the man himself, Luiz gave a diplomatic answer when asked after the game where he prefers to play.
He said: "If I play in midfield or in defence I don't mind because I just enjoy playing for Chelsea."