AFC Bournemouth: Eddie Howe waiting for transfer money news
Last updated on .From the section Football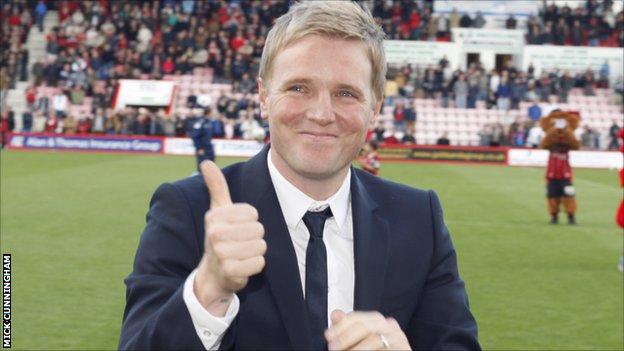 Bournemouth manager Eddie Howe says he has not yet been promised any money to spend in the January transfer window.
It is the first opportunity he will have to make permanent signings since he returned to the League One club.
And Howe says he is keen to take that chance and add to the squad.
"In terms of looking to recruiting players, we are actively looking and it is difficult to find areas we are weak in, but the squad needs balancing in a couple of areas," Howe told BBC Solent.
In Howe's previous spell as manager he was forced to sell his best players, but the former Burnley boss says he is not worried that will be the case this time around.
"I'm more positive about the window than worried," Howe revealed.
"I think we are in a strong position now to keep our best players and hopefully that will remain the case.
"I've not been told there is cash there yet, but we will be supported if we feel we need to do something."
Meanwhile, on Friday Howe was named League One manager of the month for the first time in his four years as a manager.
"I really want to give the credit and the praise to the players for the run that we've been on," Howe told afcb.co.uk.
"They're the ones that go out there and do it and I can't speak highly enough of them since we've come in.
"Full credit to everyone, and that goes for my coaching staff as well. They are so important and do a lot of work behind the scenes and we've really got a good team.
"It is not something I think too much about really in terms of the monthly awards, it is really where you finish at the end of the season that is the key thing. But hopefully this is part of the run to take us where we want to be."