Kilmarnock manager Kenny Shiels ponders touchline ban appeal
Last updated on .From the section Football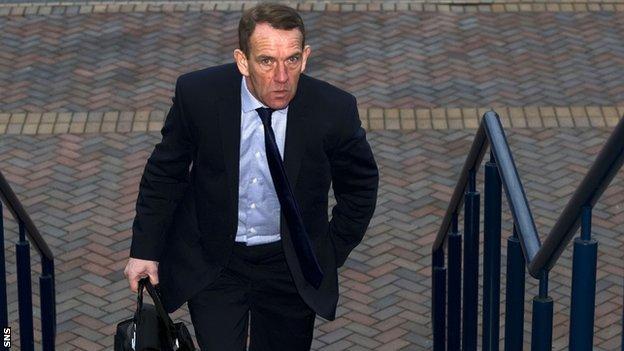 Kilmarnock boss Kenny Shiels will contemplate appealing against a touchline ban handed to him by the Scottish Football Association.
Shiels will serve a three-game ban and has a further suspended sentence after being found guilty of misconduct.
A one-match suspended ban from June was added to a two-match ban in Thursday's SFA disciplinary hearing.
Two further matches will be held as a suspended sentence, but the Northern Irishman feels it's "morally wrong".
"I'm disappointed at the ruling," said Shiels, who also told BBC Scotland he may appeal against the ruling.
"My freedom of speech has been taken away."
Shiels will now discuss the matter with the club chairman Michael Johnston before making a decision on whether to appeal.
"Because I said this in a newspaper column, then that has gone against me.
"It's morally wrong what they've done to me, but having said that, do I take it on the chin and swallow my pride or on grounds of principle do I appeal it?
"I have to make that decision and speak to my chairman about it."
While Shiels was found guilty of making comments on radio and in a newspaper article that are alleged to "impinge on the character of a match official", he was cleared of "dissent, adopting an aggressive attitude and by the use of offensive, insulting or abusive language" during the 2-1 defeat by St Johnstone on 24 November.
Shiels had been sent to the stand by referee Stevie O'Reilly for his part in a heated exchange with fourth official Andrew Dallas following the dismissal of Manuel Pascali early in the match against Saints.
"I'm not pleased for being cleared for that, I'm frustrated because ultimately we lost that match," Shiels said.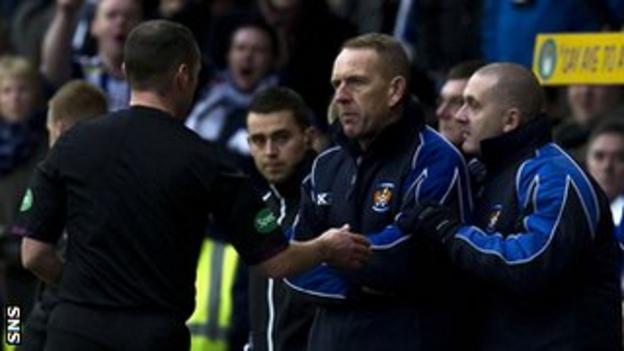 "In my defence I brought video evidence with me to Hampden and they ultimately believed me because they threw out the charge."
SFA compliance officer Vincent Lunny had called Shiels to account for misconduct during the game with St Johnstone and also for comments made in the media following the home match against Inverness on 3 November.
"I feel I haven't done anything wrong," he added. "I don't feel guilty.
"We have lost six points because of inaccurate refereeing decisions. We lost our goalkeeper and two penalties against us in that game [versus Inverness].
"Against St Johnstone, after three minutes we lose our captain; after six minutes we lose our manager from that environment and that's hard to take and I will fight the corner of my club.
"My behaviour has been impeccable. I don't know how I kept my composure in the St Johnstone game and the Inverness game.
"It's been proven today I wasn't aggressive. I contested the decision in a manner which was placid and full of composure.
"The referee never said anything bad about me, it was the fourth official who made all the decisions. All three decisions were [from] the fourth official.
"When there was no fourth officials, if we could go back to those days I'd be delighted because I don't see the need for a fourth official.
"If there hadn't have been a fourth official in the Kilmarnock-St Johnstone game, the Kilmarnock captain would not have been sent off and the Kilmarnock manager would not have been sent off."