Serbia sanctions: Uefa president Michel Platini may appeal
Last updated on .From the section Football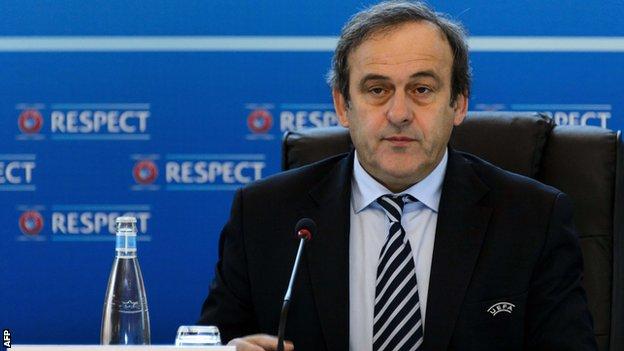 Uefa president Michel Platini may appeal to increase the player bans and £65,000 fine imposed on Serbia for racist abuse and violent conduct.
Uefa proposed more "drastic" measures than those imposed by their independent control and disciplinary panel.
In addition Kick It Out chairman Lord Herman Ouseley wants matches stopped if there is racist chanting from fans.
Ouseley described the sanctions against Serbia as "paltry" and wants more severe action.
"If necessary games should be stopped and sections of the crowd who are behaving badly should be shown the door," he told BBC Radio 4.
Uefa itself can appeal to increase the severity of the punishment and Platini will make the decision on his return from Japan next week.
Thomas Ince and Steven Caulker have been banned over incidents that took place during England Under-21s' win over Serbia in October.
Four Serbian players have also been banned, while two of their coaches are suspended for two years.
The FA is set to appeal against Ince and Caulker's one- and two-match bans after England's players were racially abused during the 1-0 victory in Krusevac.
Bendtner was banned for one match and fined £80,000 by Uefa for his goal celebration against Portugal at Euro 2012.
He lowered his shorts to reveal the logo of a betting company on his underpants after scoring the second of his two goals in the 3-2 defeat.
Ouseley criticised the FA for undermining Kick It Out's efforts with their treatment of the John Terry and Luis Suarez cases.
"It (football) clearly is (slipping back to the bad old days)," he added.
"You have your position undermined by people who are in powerful positions - and I am talking about the FA."
The punishment handed out to Serbia has received widespread criticism.
Professional Footballers' Association chief executive Gordon Taylor said: "This is a totally inadequate fine which sends a very poor message out to the football world.
"I intend to write to Michel Platini expressing our dissatisfaction and will be asking Uefa to exercise its powers to appeal against the wholly disproportionate punishments imposed against Serbia.
"In addition, we will strongly support the FA in their appeal against the decision to suspend Steven Caulker and Thomas Ince."
Manchester United defender Rio Ferdinand tweeted: "Uefa are not serious at all on racism. Fines do not work. They have zero impact on federations, clubs, fans and players.
"Uefa need to talk to this generation. They don't seem to be up to date on this issue. Harsh punishments are needed as a deterrent."