Paolo Di Canio in 'hostile environment' at Swindon Town
Last updated on .From the section Football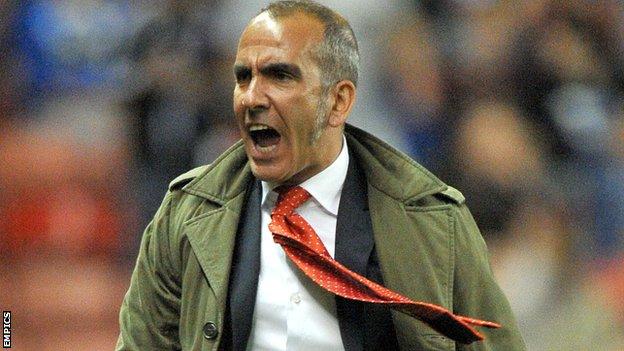 Manager Paolo Di Canio has described the atmosphere at Swindon Town as "hostile" and suggested he could have left the club two months ago.
"If I find a hostile environment I become more nasty and more focused because I don't distract myself from my players," he said.
"It's not my staff and players. It is hostile but for personal interests."
He added: "That is rubbish and something that will destroy this club for sure."
Di Canio has previously voiced his concern about the club's board of directors, and his latest outburst suggests the issues have not been resolved.
The Town manager, who has been in the role for 18 months and led the club to the League Two title last season, had a close relationship with former chairman Jeremy Wray.
When Wray was abruptly replaced by former British diplomat Sir William Patey in October, it cast doubt over Di Canio's future at the club.
The former West Ham striker said he would need "re-assurances" the board would support his plan of securing back-to-back promotions but after a series of talks he said he was happy to stay on.
But speaking on Thursday, he admitted: "I had a chance to leave two months ago. I heard something, that there was a chance. I presumed that I should leave two months ago. I presumed that I had a chance to.
"It didn't happen because obviously I want to finish my job in here. I have to finish my job. If we go to the Championship this year then I have done my job already and therefore the future changes.
"Otherwise it is three years. If someone decided to sack me it is a completely different situation.
"In the summer I waited one month to sign and it was clear that I could get what they promised the season before and the plan was to keep on going.
"I want to try to do something better now, otherwise the people have to think 'why would you want to stay here?'
"I'd fight against 100,000 people, I don't mind. That is a promise and a promise is a principle. I promised something."