Bradley Johnson: Norwich play better as underdogs
Last updated on .From the section Football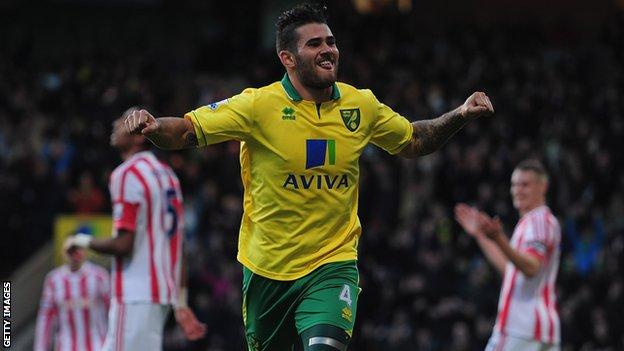 Norwich midfielder Bradley Johnson hopes the team's impressive form in the Premier League will not cost them their "underdog" status.
The Canaries confounded many people's expectations by finishing 12th last season and occupy the same place this term.
Despite losing to Aston Villa in the Capital One Cup in midweek, they are on a 10-match unbeaten run in the league.
"I think we play better when we're underdogs," said 25-year-old Johnson.
"Everyone's written Norwich off and we've always proved them wrong.
"We've gone on an unbeaten run of 10 games and no-one's really heard about it.
"If any other team did that in the Premier League, I'm sure you'd hear a lot of it, but long may it continue - I don't mind being underdogs as long as we prove everyone wrong on the pitch and that's what we're doing."
Norwich are second in the unofficial current form league and despite Johnson's desire to remain 'under the radar', they will have to adjust to being favourites at home against Wigan on Saturday.
"The hardest thing is staying in this league and anyone on any day, which we've proven, can beat anyone.
"Wigan are a good, passing team. [Roberto] Martinez is a great manager and he's bedded that into their team so it will be a good game," he said.
Johnson has appeared 17 times for Norwich this season and contributed to their successful run with the winner in a 1-0 victory over Stoke last month.
It was only the third time he has found the net since joining the club last year, but he is under no pressure to improve his goals-per-games ratio.
"I like to get forward but I don't set any targets. If I can chip in with the odd goal here and there, it's a good thing for me, but the main target I set myself is to be consistent, stay fit and hopefully get picked every week," he explained.
"I feel I've learnt a lot from last season, and this year I think I'm more disciplined in the job that I do.
"I'm a holding midfielder, more of a defensive mind, but I'm learning from every game I go into. It's a great league to be in and I want to be in it as long as I can."