Charlie Allen: Gillingham 'bonded' after Vincelot injury
Last updated on .From the section Football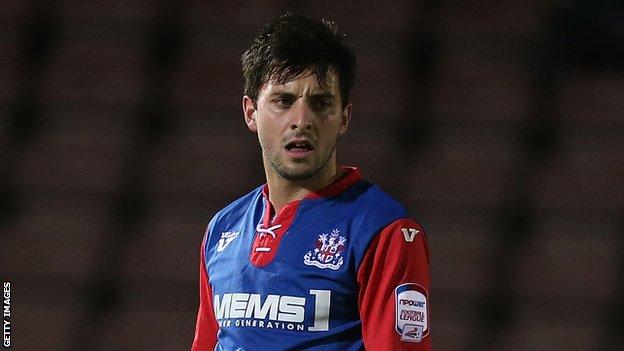 Gillingham midfielder Charlie Allen says an injury to Romain Vincelot during the win at Rotherham has helped the side to bond.
The on-loan midfielder was knocked unconscious and taken to hospital but the League Two leaders waited for him to recover before returning south.
Allen told BBC Radio Kent: "We went to the hospital, waited around the ward and then got him on the bus.
"Everyone gave him a hug, shook his hand and told him we had won."
The 20-year-old added: "It was a real coming together of spirits. It was like a film moment."
The game at Rotherham was stopped for 10 minutes as Vincelot, who has scored one goal in nine appearances for the Gills since joining from Brighton, was injured in a challenge with Millers midfielder Jason Taylor.
Vincelot had a neck brace fitted and was brought off on a stretcher, but checks at hospital found no serious injury.
"We were sat on the bus in Rotherham and it's late on the Saturday night and we want to get back to see our families, our partners and our friends," Allen explained.
"John Schofield [assistant manager] comes on and said Romain is down in Sheffield in hospital.
"He said we can either go and see him, adding two hours onto the journey, or we can go back down south, all get home and the physio will stay the night and bring him back down tomorrow.
"Every single player in the squad said there is no way we are leaving him.
"We got back about half 12 at night and no-one could have been happier. It has got the togetherness even higher than it has ever been before."
Allen posted on his account on social media website Twitter after the match: "Arrive together, win together, leave together."
He said: "It just came off the top of my head and felt right to say.
"The fact we were on the back of a few iffy results, to go there and muster up the courage and battle and win like we did was great.
"After a blip you have little doubt, but we had no real doubters in the squad that we wouldn't get back on track."