Portsmouth: High Court case adjourned until 15 January
By Nabil Hassan
BBC South Sport at the High Court
Last updated on .From the section Football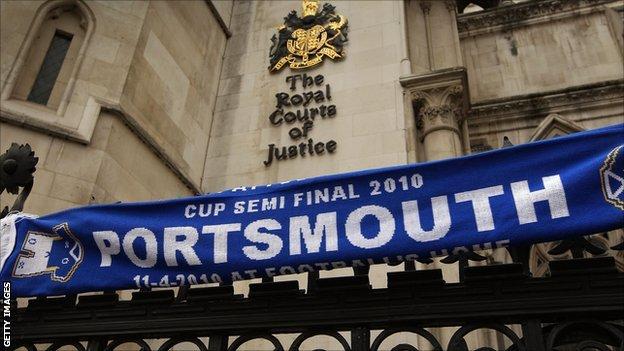 The High Court case to determine the future of Portsmouth Football Club has been adjourned until 15 January 2013.
Pompey Supporters' Trust is still hopeful it will take control of the stricken League One club.
Administrators PKF have agreed to sell Portsmouth to the PST but it is conditional on the Trust also taking control of Fratton Park.
Former club owner Balram Chainrai, who has also tabled a takeover bid, has a charge over the stadium.
The PST has offered Chainrai, who claims he is owed £12m by the club, £2.75m for the ground but he has refused to sell.
PKF had hoped to force the sale of the stadium through the court.
But the hearing began on Thursday with PKF asking for an adjournment because of "a significant change in the terms of the transaction relating to REL".
REL (Robinson Estates Limited) is connected to property developer Stuart Robinson, one of a number of 'high net worth' individuals working alongside ordinary supporters in the Pompey Supporters' Trust.
Robinson had been scheduled to buy Fratton Park and land surrounding the ground once the PST took control of the club.
On resumption of the case, PKF's counsel Katherine Holland admitted they had not been able to resolve certain issues and made an application for a further adjournment until 15 January at the latest - although the case could be heard before then if either party applies for a hearing at short notice.
During the case Chainrai's company Portpin claimed PKF had overlooked a "general floating charge" which meant they would be due any money left over from the administration - thought to be around £2m, made up of parachute payments from the Premier League,
But PST chairman Ashley Brown says the Trust's bid is viable without that money even if it is awarded to Portpin.
"We are absolutely certain we can save the club," Brown told BBC South Sport.
"We're very pleased with today's outcome, it is exactly the result we wanted.
"We had some last-minute complications because of some unforeseen circumstances that were out of our control and we needed some more time.
"We already have a plan of action to resolve the problems we have encountered and needed longer than 24 hours, and we are confident we will be back in this court within the next few weeks with a successful application."
Brown added: "We knew about the floating charge, that was part of the evidence submission and that's an issue for PKF to deal with.
"Portpin do have concerns about the way that is being dealt with and as PKF's barristers said in court they refute those concerns.
"Yes we can go forward without that money. Our business plan is very strong over the next four or five years.
"We have always worked on a very conservative business model and we are comfortable we have enough money to help the club survive."
Portpin had asked Mr Justice Sales to appoint a joint administrator, Brendan Guilfoyle, to work alongside PKF's Trevor Birch to find a new buyer for the club and fund Pompey until the end of the season.
Portpin's QC Richard Sheldon said his client had lost faith in the current administrators.
But the request was not granted and PKF will continue in their attempts to save the club, said to be £61m in debt.
Brown said it was unclear whether Robinson would continue to work with the PST, but said they had other options if not.
"That is something we will look at over the coming days," said Brown.
"Stuart was always our main option but we would be silly not to have alternative options.
"Complications between Stuart and PKF are why we find ourselves having to do the adjournment. Whether we fix things by resolving those issues or whether we come back in with a secondary plan we are not sure yet. We are confident that the secondary plan will work at the very least.
"We are continuing to talk to Stuart but whether he ends up being part of this deal or not I couldn't tell you right now."
A statement from Portpin said: "There was a fundamental flaw at the heart of the administrators' case, even before the issue regarding the valuation of Fratton Park came up in court.
"The proposed purchaser of the stadium was simply not in a position to fund the purchase even at the minimum price PST offered. This has been a huge waste of time and money.
"In what has already been the most expensive and longest running administration in the history of English football, there can be no further delays if this club is to survive."