Liverpool boss Brendan Rodgers sets his sights on a top-two finish
Last updated on .From the section Football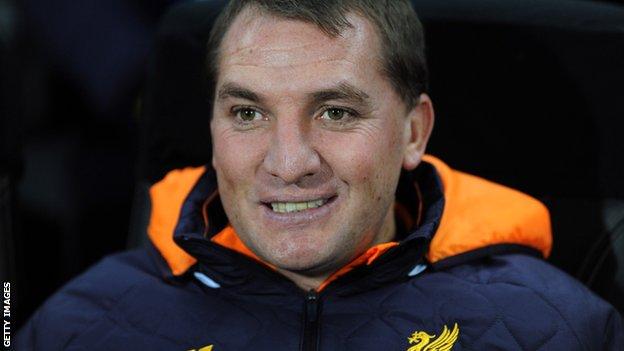 Brendan Rodgers has challenged his Liverpool players to continue their winning form after targeting a top-two finish in the Premier League.
The Reds entertain Aston Villa on Saturday looking for a third straight league win - something they have not achieved since the 2010-11 season.
"We lie four points off the top four," said Rodgers.
"For me the ambition is to grow higher. We are 11 points off second and that can all turn around very quickly."
He added: "You need to get consistency - and that is what we have at the minute."
Liverpool start the weekend in 10th place in the table, their highest position in what has so far been a frustrating season.
The last time they finished second was in 2008-09, when they led the table over Christmas only to finish four points behind champions Manchester United.
But back-to-back victories over Southampton and West Ham, together with a 1-0 win at Udinese in the Europa League on 6 December, have convinced Rodgers that his players are beginning to make progress under his leadership.
"They have been hammered left, right and centre by numbers of people," added Rodgers.
"But for a club that has been very poor and disastrous, by all accounts from other people, we lie four points off top four.
"When you are a club that is the size of Liverpool then that criticism comes.
"But I was quite calm because their [the players'] focus and concentration has been first class, our mentality was very much relaxed as we can only worry about ourselves.
"We know what will come our way when you don't win games and we are trying to still improve.
"Everyone has their opinion on Liverpool and I understand that because of the standards set by this club in the 1970s and 1980s."