Roberto Mancini questions Clattenburg over Barry incident
Last updated on .From the section Football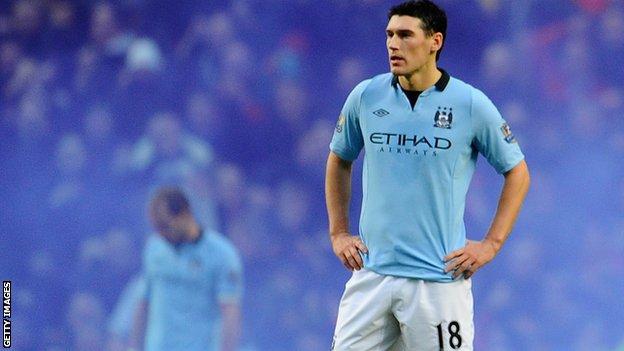 Manchester City manager Roberto Mancini has questioned Mark Clattenburg's decision to report Gareth Barry for foul language after last weekend's 3-2 defeat by Manchester United.
"I don't understand why Clattenburg said these things," said Mancini.
"I don't know if it comes from this problem with Chelsea."
Clattenburg was involved in a dressing-room confrontation with Chelsea's Mikel in October following the Blues' game against Manchester United.
The official was cleared of any wrongdoing, while Mikel was banned for threatening behaviour, but Mancini suggested the incident may have influenced Clattenburg's report.
"Every referee and fourth official should understand if a player said one inappropriate word at the end of a game, when they have lost in the last second," added the Italian.
"This was another situation to Chelsea. He said Barry said something to him. I don't know what it was.
"But Gareth is a serious guy and he said he doesn't remember saying any inappropriate words to Clattenburg."