Terry Butcher applauds Inverness spirit after SPL classic
Last updated on .From the section Football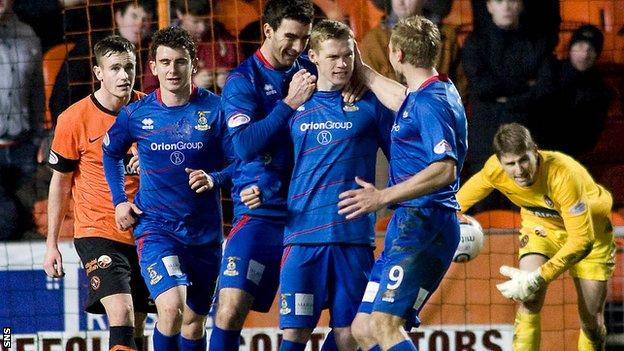 Manager Terry Butcher was left breathless but far from speechless after watching Inverness and Dundee United share eight goals at Tannadice.
The visitors were 3-0 down after eight minutes but were leading when United skipper Jon Daly netted a late penalty.
"It was an amazing match," Butcher enthused. "If you are looking for an advert for the SPL this was it.
"It was end-to-end stuff with the keepers pulling off some great saves. It could have been 8-8!"
The Inverness defending was woeful in the opening exchanges and Butcher's men were trailing to a Josh Meekings own goal and strikes from Daly and Rudi Skacel before some latecomers had taken their seats.
But Billy McKay snaffled two goals from corners before half-time and completed his hat-trick from the penalty spot in the second-half.
Gary Warren headed the Highlanders in front on 86 minutes but Daly converted a stoppage-time spot-kick to level a pulsating match.
"We're disappointed not to have won the match," Butcher explained.
"If you'd said that eight minutes in it was going to be a draw, I'd have snapped your hand off.
"It was a rollercoaster ride of match. But a draw is a great result for us. To come back from 3-0 down and take the lead, then have that snatched away. Well, there you go.
"The two teams were slugging it out and having a real go at each other. If it was boxing match, both teams would have been counted out.
"You have to remember these boys played 90 minutes against our local rivals [Ross County] in a cup tie on Tuesday. They have got some guts and character.
"They can play as well and when you have someone like Billy up front he is always a threat.
"The spirit in the team is just immense."
Inverness are on a run of only one defeat in 13 games and sit third in the Scottish Premier League.
And the in-form Highlanders will enjoy their Christmas party after such a thrilling encounter.
"The players are going to Newcastle for a couple of nights out," revealed Butcher.
"I thought at seven minutes past three that was going to be cancelled.
"Impossible is not a fact, it's just an opinion and for my boys it certainly wasn't."