Marouane Fellaini apologises for headbutting Ryan Shawcross
Last updated on .From the section Football
Everton midfielder Marouane Fellaini has apologised for headbutting Stoke City defender Ryan Shawcross.
"I apologise completely to Ryan Shawcross, my team-mates and to our fans at the game. I lost my temper and it was unprofessional," said Fellaini.
Everton manager David Moyes added: "It was a terrible thing to do and I expect him [Fellaini] to be punished."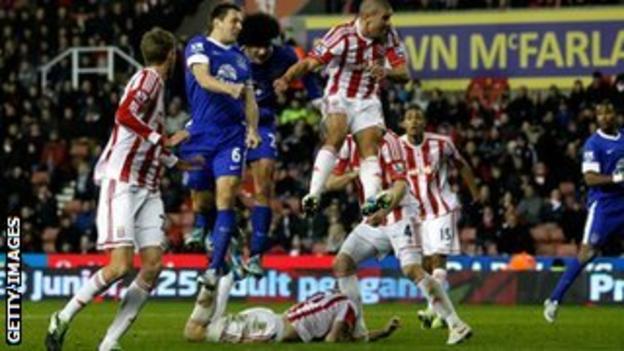 Belgium international Fellaini continued: "There was a lot of pushing and pulling going on inside the Stoke penalty area and I didn't feel I was getting any protection from the officials.
"Nevertheless I know I shouldn't have done what I did. I have also apologised to the manager and the staff - I have no excuses.
"I was disappointed with the way I was being treated and I lost my temper, which was unprofessional of me."
Stoke manager Tony Pulis refused to publicly criticise Fellaini but was unhappy at another decision going against his side.
"I'll let David [Moyes] deal with Fellaini but the one thing I will say is we have now had three incidents this season," said Pulis.
"David Luiz for Chelsea made a poor challenge [on Jon Walters] and Ciaran Clark at Aston Villa made a poor challenge [on Glenn Whelan].
"That, along with this, are three incidents where we haven't had a decision go for us and that's disappointing.
"In my opinion all three of these incidents should have been sending-offs.
"I like Mark [Halsey], he is a good referee but maybe he has not seen it."