Peter Ndlovu seriously injured in car crash which kills brother
Last updated on .From the section Football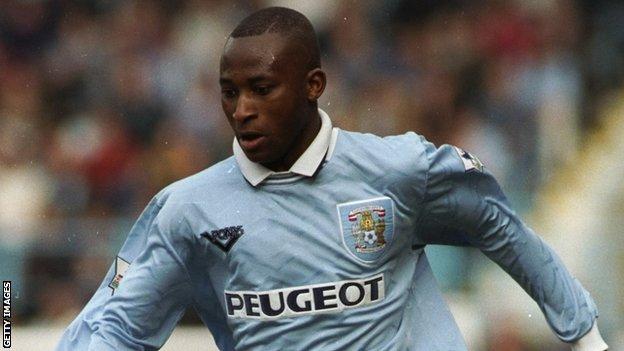 Former Coventry, Birmingham, Sheffield United and Huddersfield winger Peter Ndlovu has been seriously injured in a car crash in his native Zimbabwe.
The accident, in Victoria Falls, claimed the life of his elder brother Adam, who was also a professional footballer.
The pair were travelling to a friendly match between the Highlanders Legends and a Victoria Falls team.
A female passenger is also reported to have died in the accident.
Ndlovu, 39, is assistant coach of the Zimbabwean national side, for whom he made 100 appearances, and head coach of the national under-23 team.
Ndlovu's former manager and close friend Winston Makamure confirmed to BBC Sport that the accident happened in the early hours of Sunday.
After a tyre burst on the BMW X5 car, it veered off the road and collided with a tree.
As Ndlovu's condition eased, he was moved from Victoria Falls hospital to a medical centre in Bulawayo.
"Peter is now out of danger. He is now conscious and is communicating," Makamure said.
"He has internal injuries, head injuries, broken ribs and a broken leg."
Brother Adam, 42, spent seven seasons playing in Switzerland and scored 34 goals for Zimbabwe.
He was two years into his coaching career in the Zimbabwe premier league and had taken Chicken Inn FC to an unexpected third-place finish in the recently completed season.
Coventry's 1987 FA Cup winning manager John Sillett was responsible for bringing both Ndlovu brothers to England.
He explained: "We went on a pre-season tour to Zimbabwe in 1988 and played against their national side. Both Adam and Peter were playing for them.
"Afterwards I said: 'What chance have we got of getting the two of them to England?'
"We were allowed to bring both of them over. Eight months later I signed Peter - I wanted to sign both of them, but the board would only let me sign one of them.
"Adam went off to Switzerland and had a good career but Peter was the most talented player I have ever seen.
"They were both cracking lads, and were very, very close as brothers."
Peter, who eventually signed professional terms at Highfield Road in 1991, went on to score 43 goals in 196 matches before moving to Birmingham City for a fee of £1.6m in 1997, where he made more than 130 appearances, scoring 28 goals.
Coventry said in a statement: "The club is saddened to hear of a tragic road accident in Zimbabwe that has left former striker Peter Ndlovu in a critical condition and claimed the life of his brother Adam.
"Ndlovu achieved iconic status during his six years with the Sky Blues, where he netted 39 goals in 176 [League] appearances for the club.
"Coventry City sends its best wishes and condolences to the Ndlovu family who will be in our thoughts."
Birmingham City also issued a statement, which read: "The thoughts of everyone associated with Birmingham City Football Club are with Peter Ndlovu and his family following news of a serious car crash in Zimbabwe.
"Peter was a very popular player during his time at St Andrew's and we hope he pulls through this difficult time."
Zimbabwe's prime minister Morgan Tsvangirai said he was "deeply saddened" by the incident and wished Peter Ndlovu "a speedy recovery".
"Adam and Peter were part of our national football Dream Team in the 1990s and have continued to impart their skills to other young Zimbabwean footballers," he added.
Following a loan spell at Huddersfield, where he scored four goals in six league appearances in the 2000-01 season, Ndlovu joined Sheffield United.
He enjoyed a successful time at Bramall Lane as the club reached the semi-finals of both the FA Cup and League Cup as well as the Championship play-off final, where they were beaten 3-0 by Wolves at Cardiff's Millennium Stadium.
Sheffield United tweeted: "Our thoughts are with former player Peter Ndlovu, who has been critically injured in a car accident in his native Zimbabwe."
Ndlovu left Sheffield United in the summer of 2004, after making more than 150 appearances, and signed for South African side Mamelodi Sundowns.
He later played for Thanda Royal Zulu before retiring in 2009, although in 2011 he came out of retirement to play in Zimbabwe.
He signed for First Division club Highfield United and was immediately loaned out to Black Mambas, where he worked with another elder brother Madinda, who was the club's technical director, as well as the caretaker coach of the national team.