Sporting spotlight: Ron Atkinson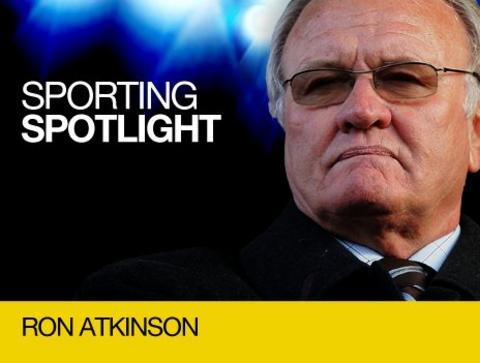 From managing the Three Degrees to Mad Max, getting in the wrong dug-out to inventing Ron-glish, BBC Sport puts Ron Atkinson, 73, under the sporting spotlight.
So what are you up to nowadays?
Various things. I do a fair bit of media work and a lot of stuff for a well-known bookmaker with Robbie Savage. I go out to the Middle East and do coaching and broadcasting there as well. I'm pretty active.
In terms of keeping yourself busy away from football, what do you get up to?
I play a lot of golf and generally just socialise. We have got a house in Tenerife and we go out there when the weather is bad in England.
You managed nine clubs, do you remember them all?
I didn't know it was that many but I could name them all and I enjoyed it everywhere I managed.
What was it like managing in Spain?
I was only there for four months when we went from bottom of the league to second. I had a president called Jesus Gil. I nicknamed him Mad Max and I found out years later that I was probably the longest-serving manager he had. He sacked one bloke before the season started because he didn't smile in a team photo. He was a right character.
What was it like managing the Three Degrees of Brendan Batson, Laurie Cunningham and Cyrille Regis at West Brom?
Easy. They were great lads and players. As a manager, I went to games with the same anticipation as a fan because I knew they were exciting. We had a very good team but the boys were terrific. They were role models without even setting out to be. They conducted themselves ever so well, they enjoyed themselves and were fabulous players.
Who is the best player you have managed?
Without a shadow of doubt it was Bryan Robson. He was the complete player and, for me, he was an all-time West Brom, Manchester United and England great. He could do everything. He was competitive and he could defend, attack, pass the ball, beat a man as well as score goals from midfield.
What's the funniest thing that has happened to you?
I've had a few. One of them was when I was in Barbados and got a phone call to come back and manage Nottingham Forest. I flew back overnight. I got to Nottingham and the lad who drove me fixed me up with a suit and overcoat. I went to the ground, walked out for the start of the game with the photographers and everybody there. I'm waving, I haven't got a clue where I am. I jump into a dug-out and I'm waiting thinking "come on let's get started" as we are playing Arsenal. I just happened to look around and I'm stood with Dennis Bergkamp, Patrick Vieira, Nelson Vivas and I thought, "how are we bottom of the league with these in the team?". I was obviously in the wrong dug-out and they show it on television even now.
Did Karren Brady, who was at Birmingham at the time, really ask you if Dalian Atkinson was your son?
Yes she did. We were having a photo shoot before Aston Villa played Manchester United in the League Cup final in 1994. We're having lunch and she's reading the programme. She is going through how good our squad is at Villa and she says: "Oh the number 10, Atkinson, your son's in the team". I hadn't got the heart to tell her.
You had a unique way of summarising. It's been dubbed Ron-glish. What do you make of that?
I see a lot of stuff which is attributed to me which isn't mine but I'd use little identifying things from when I was coaching. As a player I probably only had one trick, apart from passing to my own team-mates, and that was a step over. One of my managers said you look like a lollipop doing that so I said, "I'll have that, that's what I'll call it". Subsequently, when I was covering a game and someone did it, I'd say, "he's just done a lollipop". People say why is it a lollipop and I go, "why in cricket do they call a googly a googly?". It identifies it and people know what it is straight away. When I used to say skim a header, I'd go "go on eyebrows" and the players would know straight away what I was after.
Who's the best summariser these days?
Although he's not the biggest name, I like Don Goodman because he tells me something. I was always told when I started summarising, you are not there to repeat what the commentator says. You are there to try to help give information to the viewer; to have a look, think and predict how the game might develop in terms of tactics. A lot of the people I hear summarising very often just repeat the commentator or have a degree in stating the obvious.
Messi or Ronaldo?
It wouldn't bother me if I was a manager having either. To have both would be beyond. Who's the best? I would just about go for Messi.
Which sporting icons would you invite to dinner?
How big a dinner table can I have? I'm getting greedy. I'd certainly have Jack Nicklaus. Also, Arnold Palmer. Greg Norman, John McEnroe, Ian Botham and Shane Warne. There would be some good patter with that lot.
Have you ever used Twitter?
I can understand if certain people are using it as a business thing and promoting stuff. I can't understand - and I've got young mates who I play a lot of golf with - who tweet what they've had for breakfast. Who the heck is interested in that? I think that players using it is totally daft.
What's the best bit of advice you've given?
Appreciate what the game does for you and what it can do for you. I consider myself fortunate as I left school at 15 and never had to work. I've done something that's not a job; it's been a way of life and a vocation. I hope that today's players who are earning an absolute fortune - and full marks to them - I hope they appreciate how good it is.
Who is going to win the Premier League this season?
I said at the start of this season that the team that had Robin van Persie, including Arsenal who if they had kept him would have been in with a big shout, would win it. On the premise of that I would have to say Manchester United.