Jill Scott: Everton retain England midfielder for 2013 season
Last updated on .From the section Football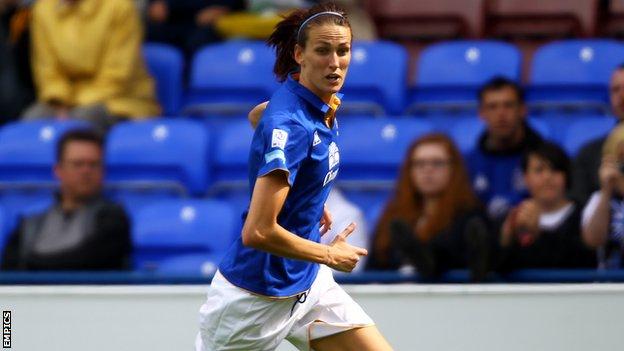 England international midfielder Jill Scott is among 12 players to commit their futures to Everton Ladies for the 2013 Women's Super League season.
The 25-year-old had been considering whether to remain with the club after and the departures of three key players to Liverpool.
"I am delighted that the players have committed to signing new contracts for the club," said new boss Andy Spence.
"Many of them had numerous offers to play elsewhere."
Spence continued: "They have shown they want to be at the club and that is fantastic news ahead of the new season.
"The re-signing of the players means that we are in a good position going into pre-season."
They have lost and to their local rivals Liverpool in the past month.
Scott revealed she was taking time to think over the offer of a new contract.
She said: "I am being totally honest in saying that I've not made a decision yet as I've not had time to weigh things up.
"I don't want to be the boy (or girl) that cried wolf and say something which I then change my mind about.
"I will speak to the right people and hopefully make the right decision."