Napoli to fight points deduction for match-fixing by former player
Last updated on .From the section Football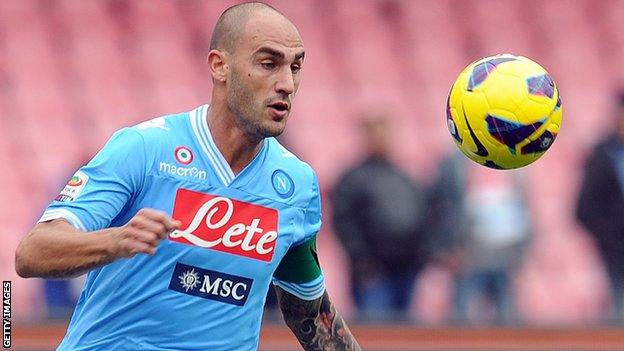 Napoli believe they should not be punished after a former player's conviction for match-fixing resulted in a two-point deduction for the club.
Ex-Napoli goalkeeper Matteo Gianello, 36, has been banned for 39 months for an attempt to fix the Italian club's clash with Sampdoria in 2010.
Paolo Cannavaro and Gianluca Grava were also handed six-month bans for failing to report Gianello's wrongdoing.
A club statement read they "do not agree not agree with the decisions".
The Italian Football Federation also fined the club £57,000.
However, Napoli feel that the club should not be punished, especially during an ongoing Serie A campaign.
"The president Aurelio de Laurentiis, the head coach Walter Mazzarri and the whole team are calm, being confident that no violation could be attributed to Napoli," the statement said on the club's official website.
"While not entering into the obsolete and outdated principle of objective responsibility, and reserving any comments on legal action for the appropriate forums, Napoli does not agree with the decisions of the National Disciplinary Committee, considering that they should not be able to irretrievably alter championships that are already in progress.
"Any decision must be made before the start of a tournament or at the end of it. There has been enough time to evaluate and make a decision since the 2009-10 season.
"We are confident that true justice can be applied to the separate decisions, based on law and equity, not on Justicialism (a theory involving government intervention)."
The points deduction leaves title-chasing Napoli 10 points behind Serie A leaders Juventus and moves them down to fifth from third.
Gianello, who is now a free agent, admitted his attempt to fix the game with Sampdoria at the end of the 2009-10 campaign, which they lost 1-0.
Former Parma defender Cannavaro, who has been at the club since 2006, and Grava, who joined in 2005, had previously denied any involvement.
However, they will both now miss the rest of the campaign unless they decide to appeal and turnover their convictions.
A wide-ranging criminal and sporting probe into illegal betting and match-fixing in Italy has already led to several arrests and bans.
In a separate incident, Juventus manager Antonio Conte was suspended for 10 months for not reporting match-fixing when he was in charge of Siena, then in Serie B, in the 2010-11 season.