Portsmouth: Robinson committed to PST - Iain McInnes
By Nabil Hassan
BBC South Sport
Last updated on .From the section Football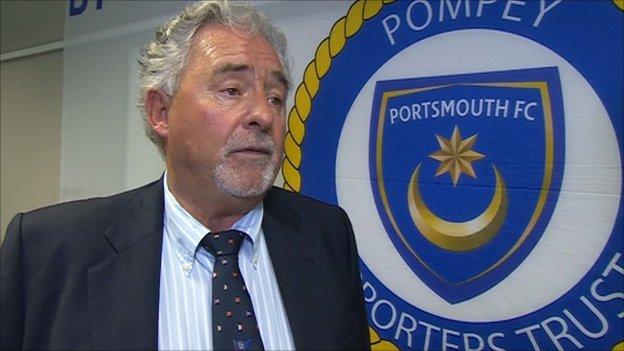 Potential new Portsmouth chairman Iain McInnes says the property developer working with the Trust is still involved with the bid to save Pompey.
Stuart Robinson had been expected to buy Fratton Park and land surrounding the stadium as part of the Trust's bid.
But it emerged in court on Thursday there had been "a significant change in the terms of the transaction relating to REL" (Robinson Estates Limited).
"Stuart has been very supportive," McInnes told BBC Radio Solent.
Administrators of the land surrounding Fratton Park, David Rubin & Partners, revealed to BBC South Sport last month that Robinson had signed an exclusivity agreement with them and, although he has not exchanged contracts, it is understood he is still on course to buy the land.
And McInnes says despite the issues at the High Court on Thursday and Friday, which resulted in the case to determine the valuation of Fratton Park being adjourned until 15 January, Robinson is still involved with the Pompey Supporters' Trust.
"Stuart remains supportive and we remain confident Stuart will be able to complete the deal," McInnes added.
Speaking on Friday, PST chairman Ashley Brown said they had alternatives to Robinson should he pull out, although McInnes remains hopeful of resolving the outstanding issues.
McInnes meanwhile says the "high net worth individuals" working with the PST as well as the vice-presidents would continue to fund the club until their takeover is completed.
"To get us to the court case on the 15 January or maybe later the high net worth individuals and vice-presidents of the PST have agreed an uplift of funding for the administrator to be able to trade the business without going into loss," he said.
"This is a strengthening in commitment if anything from the high net worths and the VPs.
"Administrators aren't able to run clubs at a loss and therefore to take our bid forward correctly PKF, not to diminish the asset base belonging to the creditors, asked us to put up a sum of money as a budget to run the business to 21 December, which we thought would be more than enough until the court case was adjourned.
"They've (PKF) have now asked us for a further uplift which we are committed to."
And in a statement released on Tuesday, Brown reiterated his belief they would take control of the club, who have been in administration since February and are said to be £61m in debt.
"We have the funding to succeed, providing we continue to convert pledges," said Brown.
"Our individual high net worth investors have lodged a seven-figure sum in escrow, and pledges are coming in ahead of target.
"Our bid has the confidence of the administrators and the Football League. That has not changed.
"We fully expect to be the next owners of PFC, and believe we will proceed with the purchase of the club in the next few weeks."