Zenit St Petersburg fans want black and gay players excluded
Last updated on .From the section Football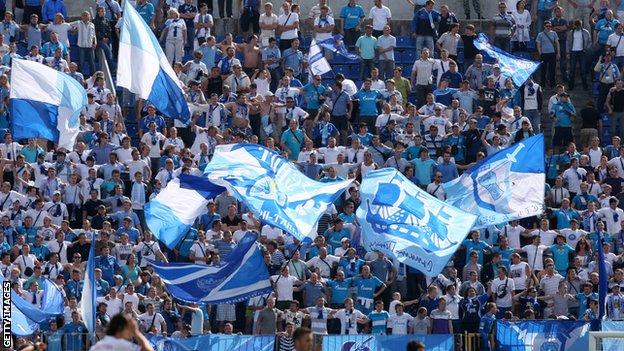 A Zenit St Petersburg supporters' group has called for non-white and gay players to be excluded from the team.
The Russian champions' largest fans' group, Landscrona, said in an open-letter that black players are "forced down Zenit's throat".
They added that gay players are "unworthy of our great city".
Dietmar Beiersdorfer, Zenit director of sports, said players were selected "without any limitation regarding origin, religion or skin colour".
Zenit were the only top-flight Russian team without a black player until this summer.
They signed Brazilian striker Hulk and Belgian midfielder Axel Witsel for £64m.
French midfielder Yann M'Vila reportedly turned down a move to the club in August as a result of racist abuse.
Nikolai Grammatikov, the secretary of the union of football players and coaches in Russia, believes players can send an important message to the country's football authorities by refusing to join Russian clubs.
"The best way of acting against this is when the players that are invited to come to Russia, the black players especially, say 'Sorry I would love to come as it is probably an interesting Championship, but the Federation has to do something because I am not going there because of the racists,'" he said.
"This is the strongest message the players could make now to the football authorities."
Zenit's Italian head coach, Luciano Spalletti described the supporters' call as "stupidity", saying "tolerance for me is most of all the ability to understand and accept differences".
He added: "I can personally assure you that I will do everything I can to help those who seek to explain to people what tolerance is, and the need to respect other cultures and traditions.
"I think that Zenit has proven through its work that the club understands what tolerance is, and what it means to have tolerant behaviour. The team has gathered players from different countries and ethnic groups who work together to achieve a common goal."
The fans' manifesto read: "The absence of black Zenit players is just an important tradition that underlines the team's identity and nothing more."
Black players in the Russian league have been the target of monkey chants and Anzhi Makhachkala's Christopher Samba had bananas thrown at him by fans. Zenit St Petersburg were fined by the Russian Football Union after one of their fans offered Roberto Carlos of Anzhi a banana before a match between the two sides in March 2011.
Zenit are currently third in the Russian Premier League behind leaders CSKA Moscow and Anzhi. They will play in this season's Europa League after finishing third in Champions League Group C.