Kilmarnock's Kenny Shiels asked to explain Andrew Dallas remarks
Last updated on .From the section Football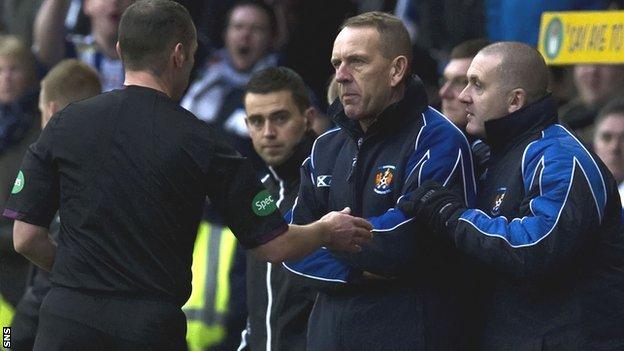 Kilmarnock manager Kenny Shiels' bitter feud with the footballing authorities will continue into the new year.
Shiels accused fourth official Andrew Dallas of an "outrageous fabrication" against him after an incident in a Scottish Premier League match against St Johnstone at Rugby Park last month.
And the Scottish Football Association's disciplinary panel wants him to explain those comments on 10 January.
Shiels is currently serving a three-game touchline ban.
That was handed to him on Thursday at Hampden, when he was also served with a suspended sentence of two matches.
He had been called to Hampden by Vincent Lunny, the SFA's compliance officer, to face two alleged breaches of the rules.
The first was for comments made in the media following a game against Inverness Caledonian Thistle on 3 November "that impinge upon the character of a match official".
And for comments in a newspaper article that suggested "the match official would not be acting with integrity if he did not 'admit he made a mistake'" over referee Euan Norris's decision to send off goalkeeper Cameron Bell.
The panel found that the rule breaches had been proven and the touchline bans, immediate and suspended, relate to those.
The second charge related to an incident during Killie's 2-1 defeat by St Johnstone on 24 November.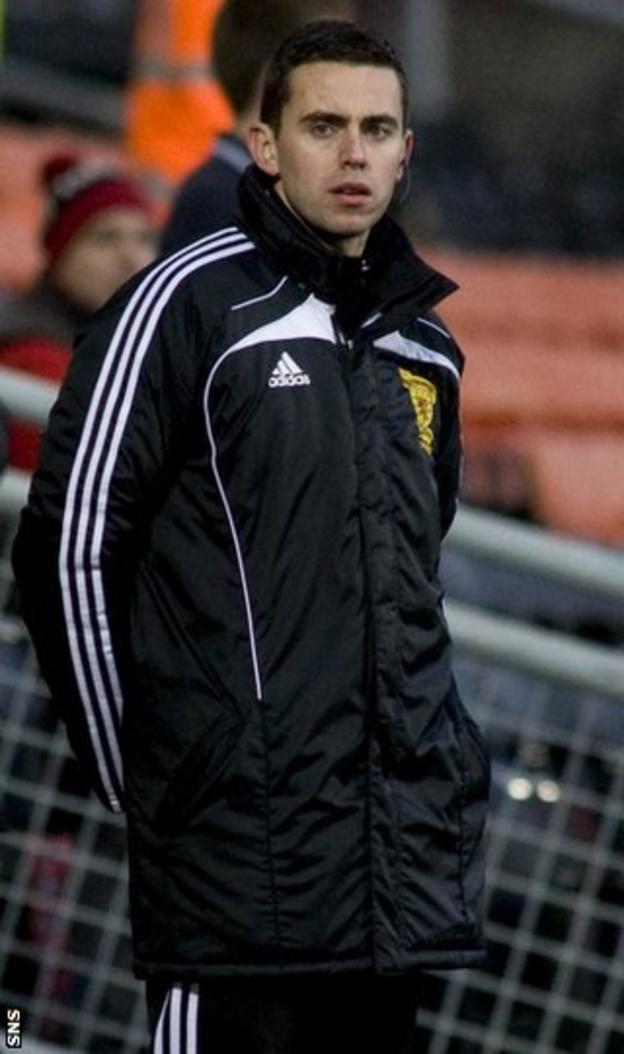 Referee Stevie O'Reilly had sent the Northern Irishman to the stand after he became involved in an angry exchange on the touchline with Dallas following the dismissal of his captain, Manuel Pascali.
Lunny had served Shiels with a notice of complaint about a breach of "Disciplinary Rule 203 (Misconduct at a match by dissent, adopting an aggressive attitude and by the use of offensive, insulting or abusive language.)"
The punishment for that, says the SFA's "determination" on the matter, was "Removal from technical area at the match on 24th November 2012 . No further sanction applied."
The following day, and that he would be seeking advice from the Scottish Senior Football Referees' Association.
Its chairman, John McKenrick, welcomed Lunny's decision.
"In our opinion, ill-founded comments reported widely in the Scottish sporting media in recent days have impinged upon the character of one of our members," he said.
"It is unacceptable that a referee should have his integrity questioned in such a matter.
"To accuse a referee of 'outrageous fabrication' is totally unacceptable.
"For the avoidance of doubt, and in contrast to comments attributed to Mr Shiels, it should be acknowledged that on Thursday 13 December, and having digested the evidence submitted by Andrew Dallas, the judicial panel found Mr Shiels in breach of rule 203, misconduct at a match.
"Scotland's referees welcome the swift response by the compliance officer and now place our faith in the judicial panel to adjudicate on this unprecedented attack on the integrity of a Scottish referee."