Capital One Cup: Leeds and Chelsea ready to resume rivalry
Last updated on .From the section Football190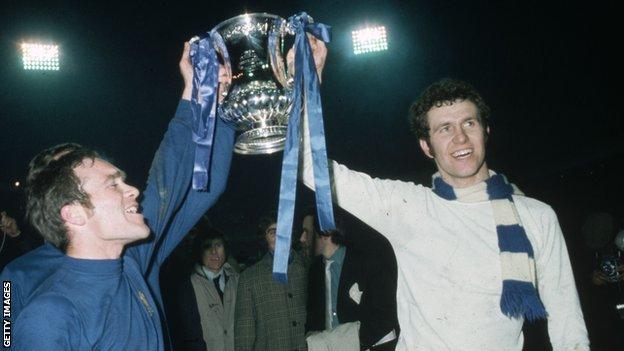 Leeds United legend Norman Hunter tells a story about Chelsea hardman Ron 'Chopper' Harris that gives you an idea of how brutal clashes between the two sides in the 1960s and 70s could be.
Another Leeds great, Eddie Gray, was enjoying himself at a black-tie dinner a few years ago when Harris tapped him on the shoulder, put his hand out and asked: "Can I have my studs back?"
It was said with a smile but there were not too many of those about when the challenge Harris was referring to was made - a famous 'leveller' when he embedded his boot in the back of Gray's knee early in the 1970 FA Cup final replay, ending the Scotsman's meaningful participation in a game that saw Chelsea run out surprise winners.
Mind you, Leeds gave as good as they got. Hunter, who was given the nickname of "Bites yer Legs" because of his equally fearsome tackling, laughs when he recalls that notorious meeting at Old Trafford and admits: "Some of our games were a bit physical to say the least."
Relations between the protagonists might have softened down the years but ill-feeling has lingered.
What was an intense on-pitch rivalry with silverware at stake translated into a mutual antipathy between the two sets of supporters, occasionally with violent consequences.
The two clubs have not met since Leeds were relegated from the Premier League in 2004 but that will change in the Capital One Cup quarter-finals on Wednesday, when one of football's enduring rivalries resumes after an eight-and-a-half-year hiatus.
This time, Hunter and Harris, now veterans of the after-dinner speaker circuit, will engage in banter in an executive lounge Q&A session before the game, rather than exchanging bruising challenges during it.
It will be Harris's first visit back to the home of Chelsea's old enemy for more than 30 years, and he told BBC Sport: "I'm quite looking forward to it and the reception I will get off the Leeds supporters. If they applaud me then it will be the first time it will have happened at Elland Road."
That exchange should be friendly enough - no studs will be raised on this occasion - but there are a few other reunions that will guarantee an edge to the evening.
Leeds boss Neil Warnock, who rejected the chance to manage Chelsea when he was in charge of Notts County in 1991, has already reopened a grudge with Blues interim boss Rafael Benitez that dates back to 2007.
Meanwhile, Leeds chairman Ken Bates, who bought Chelsea for £1 in 1982 and sold the club to Roman Abramovich for £140m 21 years later, hardly endeared himself to the Russian when he publicly opposed the latter's plans to move the Blues from Stamford Bridge - although Bates might still get a warmer reception from Chelsea fans than he does from those of his own team.
Those personal feuds can be set to one side, however, because it is the history between the two clubs that gives the biggest bite to this game - and that can be traced back to the mid-1960s.
Gray, a skilful winger who came through the ranks to play more than 500 games for Leeds between 1965 and 1983, told BBC Sport: "We got promoted in 1964, the year after them, and ended up challenging them for honours - we played each other quite a lot.
"Part of the rivalry was definitely the north-south divide. We were the gritty Yorkshire team and they were the fashionable boys from the Kings Road. Both teams were full of terrific players and a few feisty characters. It got personal during the games but once they were over we all got on all right."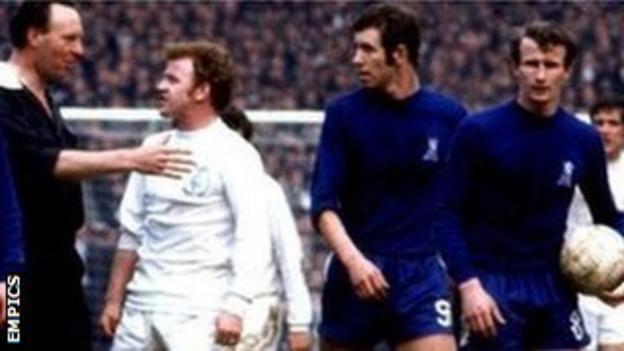 The first flashpoint came in a 1967 FA Cup semi-final that Chelsea won 1-0 after Leeds had a Peter Lorimer free-kick controversially disallowed.
"We knew they were aggrieved," said Harris. "After that it turned into a great rivalry between two very good sides. There was no love lost and the the best example I can give of that was the 1970 FA Cup final - especially the first game, which was one of the fiercest matches I have played in. Nobody held back."
If Chelsea won the two FA Cup battles, it was Leeds - with two league titles in 1969 and 1974 - who won the war.
"The difference was we travelled better than Chelsea," said Hunter. "We were a team who could go anywhere in the country to get a result, while they were a formidable side at home but not so good on the road.
"We were classed as 'dirty Leeds' but we were a good side - a great side. We could defend and if we went 1-0 up then most of the time that was the game over, whether it was home or away.
"We had that edge on Chelsea but, in certain situations, for the big games they had a few flair players who could come to the fore. Peter Osgood was one, Charlie Cooke was another."
This time, on paper, the two clubs are poles apart. Chelsea are the champions of Europe - an accolade Leeds never quite managed themselves, even in their glory years. The West Yorkshire club are a long way off changing that too, having recovered from their financial meltdown of a decade ago but, so far, only risen as high as mid-table in the Championship.
The game is still a huge one, however, because the rivalry remains.
"I remember when I was assistant manager under David O'Leary at Leeds in 1999 and we went down to Stamford Bridge and won to go to top of the league," said Gray, who managed the club outright between 1982 and 1985 and was caretaker boss when they were relegated from the top flight in 2004.
"[Chelsea's] Frank Leboeuf got sent off and there were a few ructions in the tunnel. That sort of thing makes Wednesday's game entertaining because even fans who have never seen Chelsea play Leeds know about the history between the clubs.
"This is a game everybody is looking forward to and, just like the old days, there will be no quarter given or asked."